"ONCE DESTROYED NATURE'S BEAUTY CANNOT BE REPURCHASED AT ANY PRICE"
Ansel Adams
UCLN APPOINTS NEW THREATENED SPECIES PROJECT OFFICER
PHASCOGALE SIGHTINGS WANTED!
SEED COLLECTING BEGINS AT BALD HILL RESERVE
ASHBOURNE LANDCARE CONTINUES BIOLINKS PROJECT
VBA GO APP LAUNCHED
EVENTS, RESOURCES AND GRANTS
Welcome to the summer edition of the UCLN ENews. Scroll down to the Events and Resources section and you will find a wealth of interesting events on offer – from Social Media training, a Sustainable Soils conference, a Forum to launch our Citizen Science project and much more.
UCLN APPOINTS BRAD BLAKE AS THREATENED SPECIES PROJECT OFFICER
I would like to welcome Brad Blake to the UCLN. He will be leading surveys for three threatened species – the Powerful Owl, Phascogale and Greater glider – in our area in conjunction with our Landcare community.
Brad brings with him a wealth of experience in threatened species monitoring. He has worked across Australia in various roles protecting native species and engaging communities in order to raise awareness of Australia's declining biodiversity. Over the past 2 years Brad has surveyed forests for threatened species across Victoria, in particular Greater glider, Powerful owl, Barking owl and Spotted-tailed quoll.
He has recently uncovered new populations of Greater glider and Long nosed bandicoot in West Gippsland and has confirmed several old records of Greater glider in the Wombat State Forest.
"I'm honored and excited to be working with the Upper Campaspe Landcare Network and the Macedon Ranges Shire Council in this role as Threatened Species Community Project Officer. It's extremely important that we continue to collect data on the threatened species of our region so that Government and the community can better manage our public and private land. This will ensure that species at risk of extinction survive and persist into the future for generations to come."
"I'm looking forward to engaging  the community and helping them learn the techniques required to survey their local area for these iconic threatened species." said Brad.
To find out how you can become involved in this exciting two year project to help protect these cryptic and elusive  species come along to a Forum on the 10th March from 2.00 – 5.00 pm at Newham Mechanics Hall. Book at this link – BookForum
PHASCOGALE SIGHTINGS WANTED!
As part of the funding from the Biodiversity on-ground Action Grants the UCLN has purchased five remote sensing cameras to help us photograph and record threatened species.Our Threatened Species Community Project Officer Brad Blake has already begun installing cameras on some sites.
If you think you may have phascogales in your area, or have seen them dead or alive please contact Brad at  brad@proconpest.com or 0421823998.
Also if you have been hearing the distinctive Woooo-wooo of the Powerful Owl, or have seen their pellets (which are regurgitated possums or birds bones and fur or feathers) please contact myself or Brad. Another clue that you may have them in your area is finding possums tails which the owls often pull off and discard when feeding.
More at this link an-eye-on-special-species
SEED COLLECTION BEGINS AT BALD HILL
The Friends of Bald Hill Reserve are working on increasing the mid story vegetation at the Reserve as a result of their recent successful Biodiversity On Ground Action grant. Members of the Friends group were recently collecting seed at the Reserve guided by Matt Comer and Ash Elliott from Goldfields Revegetation.
President Carolyn Robb said "This is an exciting opportunity to not only learn about seed collection but to also learn from experts about plant identification. It is a great opportunity to learn about new species. We are trying to increase the mid-storey vegetation at Bald Hill Reserve.It is important habitat for threatened species such as the phascogale. We want to ensure we have the correct habitat to increase their chances of survival."
ASHBOURNE LANDCARE CONTINUES BIOLINKS PROJECT
As a result of their successful Biodiversity On-ground Action Funding, Ashbourne Landcare is working on a project to create individual sections of biolinks to link remnant patches of vegetation across the Ashbourne Landscape.The project brings together 11 landowners who are dedicating parts of their properties to support biodiversity with the aim of improving habitat area and connectivity across the landscape.
Said Ashbourne Landcare member Alan Denehey "This follows on from last years successful project to set up five biolink demonstration sites working with six landowners. The work will include flora surveys, woody weed removal, livestock exclusion fencing and planting with indigenous species appropriate to the terrain."
These works will particularly support  threatened species such as Powerful Owls, matted flax-lillies and phascogales."
This is just one of the many great projects being undertaken by UCLN member groups working hard to protect our environment.
VBA GO APP LAUNCHED
Help record our precious flora and fauna in the region by using the new VBA Go App.This mobile tool  links directly to the Victorian Biodiversity Atlas, making it easier  for environmental managers, researchers, students and community members to record Victoria's native flora and fauna whilst out and about. For more information on the Victorian Biodiversity Atlas follow this link:  VicBioAtlas
Before using the App you first need to  register with the VBA  which you can do  on the link above.
The UCLN has been working with DELWP to trial the new App.We will be holding further workshops on using it at a later date.Interested? Watch this short video about the App featuring  Carolyn Robb from Friends of Bald Hill Reserve and myself.
VBA Go – Knowledge is Power
https://www.youtube.com/watch?v=hlbn8NuIvxI
MACEDON RANGES SHIRE COUNCIL NEW BIODIVERSITY STRATEGY
MRSC COMMUNITY ENGAGEMENT PROCESS:
For those of you in the Macedon Shire, Council is inviting feedback on its new Biodiversity Strategy that will guide Council and the community to work towards a healthier environment and better protection for our native plants and  animals.
From Monday 5 February, residents can have their say on the Shire's biodiversity assets by pinpointing important natural features on an interactive map, available at www.mrsc.vic.gov.au/yoursay
Online feedback on the Biodiversity Strategy finishes on 12th of March.
For more information on the Biodiversity Strategy call Krista Patterson-Majoor on 5421 9503.
Drop-in sessions on the Biodiversity Strategy  will be held on:
Thursday 15 February, 5pm-7pm, Room 3 at Kyneton Mechanics Institute, 81 Mollison Street, Kyneton.
Monday 12 February, 6pm-8pm, Lancefield Neighbourhood House, 8 Hamilton Street, Gisborne.
Wednesday 21 February, 6pm-8pm, Lancefield Neighbourhood House, 78 High Street, Lancefield.
Krista will  be following up with individual Landcare and Friend groups to gain their input soon, and will attend the next UCLN General meeting.
EVENTS
FORUM TO LAUNCH CITIZEN SCIENCE PROJECT
Come along to the Forum to see how you can become a valuable part of this Citizen Science Project to gather data which will help protect threatened species in our area.
"If you have an interest in understanding native wildlife on your property, then we encourage you to get involved," said Mayor, Cr Jennifer Anderson."You can help us determine whether these species still exist in various locations and if so, how many still occur and whether the populations are secure."
Senior Threatened Species officer from the Office of Environment and Heritage NSW Dr Todd Soderquist will be sharing his knowledge gleaned from many years of researching and radio tagging Powerful Owls and phascogales in Central Victoria. Also presenting will be Dr Ross Goldingay, an expert on gliders from Southern Cross University and editor of Australian Mammalogy. Ross has pioneered a successful method for gliders to cross major roads safely. Jess Lawton, PhD student from Latrobe University  who is currently conducting research on phascogales in Central Victoria will also be on hand to share her extensive knowledge.
We are hoping landowners who have heard or seen any of these species on their properties come along to the Forum to find out how their presence can be verified and entered into the Victorian Biodiversity Atlas to ensure their protection.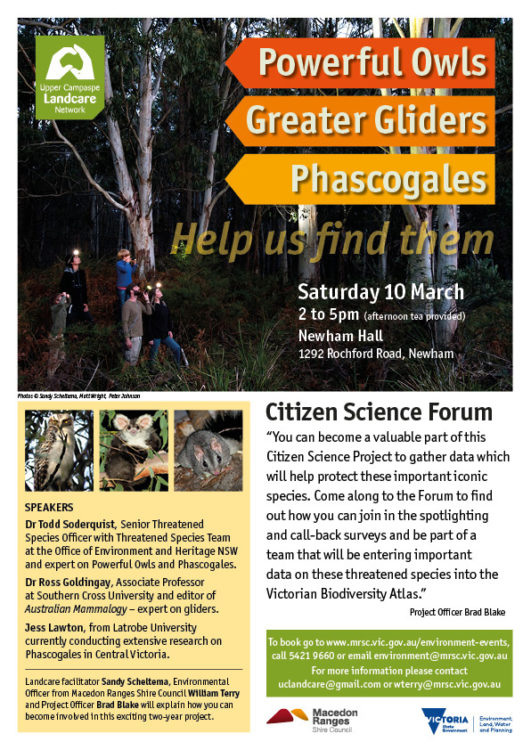 To book call 54219669 or click on this link –  BookForum 
RIVER RESTORATION WORKSHOP
Do you have a river, creek or wetland on your property? Would you like to learn from experts how to restore and rehabilitate it? Why not come along to the free River Restoration workshop being held at the beautiful historic Degraves Mill in Carlsruhe.
The workshop which will help landowners gain the tools and understanding  to improve riparian areas on their properties. Damien Cook and Elaine Bayes from Rakali Ecological Consulting (who between them have over 40 years experience in restoring wetlands) will be presenting and sharing their wealth of knowledge on the subject
Angela Gladman, Caring for the  Campaspe Project Manager from the North Central CMA will be discussing techniques and strategies for improving waterway health.
The theoretical component of the workshop and lunch will be held in the beautiful historic bluestone Degraves Mill, and participants will walk a 2 km stretch of the Campaspe River on the property to discuss the successful regeneration techniques that have been employed.
Participants must have a moderate level of fitness and bring hats, water and appropriate footwear.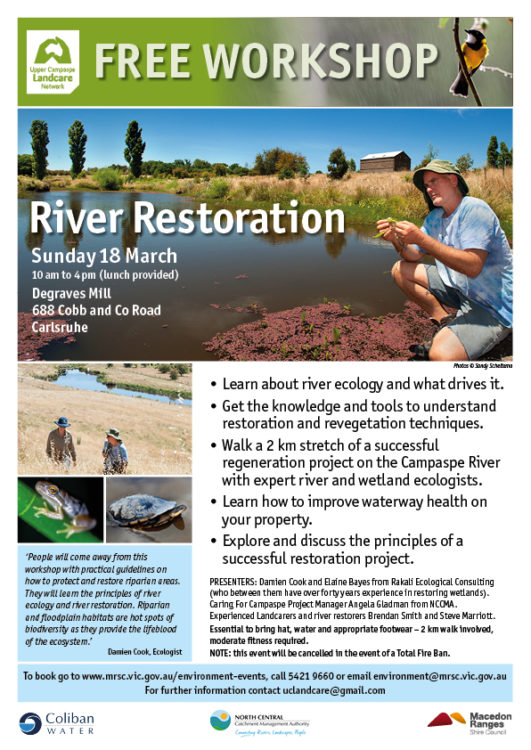 Bookings essential by calling 54219660 or clicking on RiverRestoration
FARMING FOR SUSTAINABLE SOILS CONFERENCE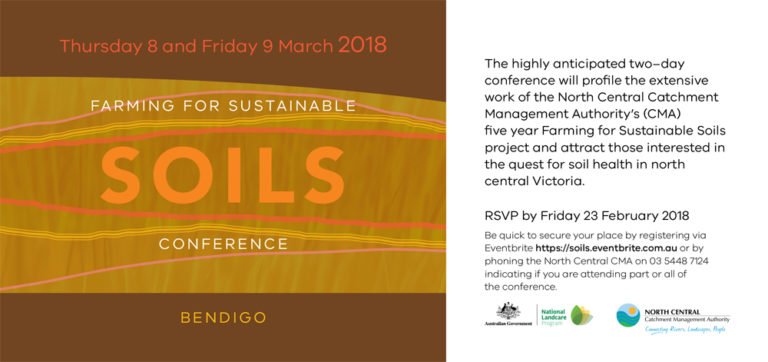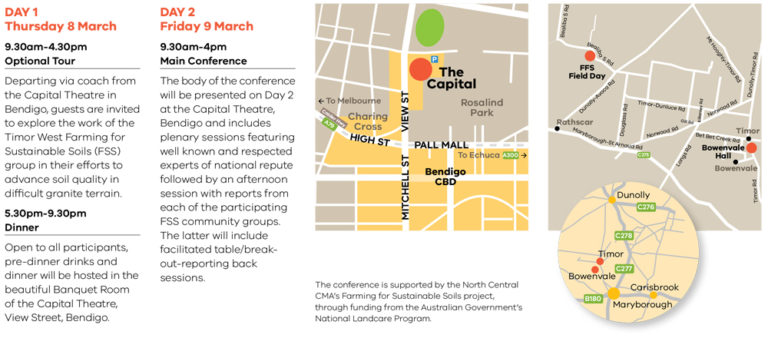 When: March 8 & 9, 2018
Where: Capital Theatre Bendigo
RSVP: by Friday 23rd February via https://soils.eventbrite.com.au/ or contact the North Central CMA on (03) 5448 7124
FUTURE FARMING EXPO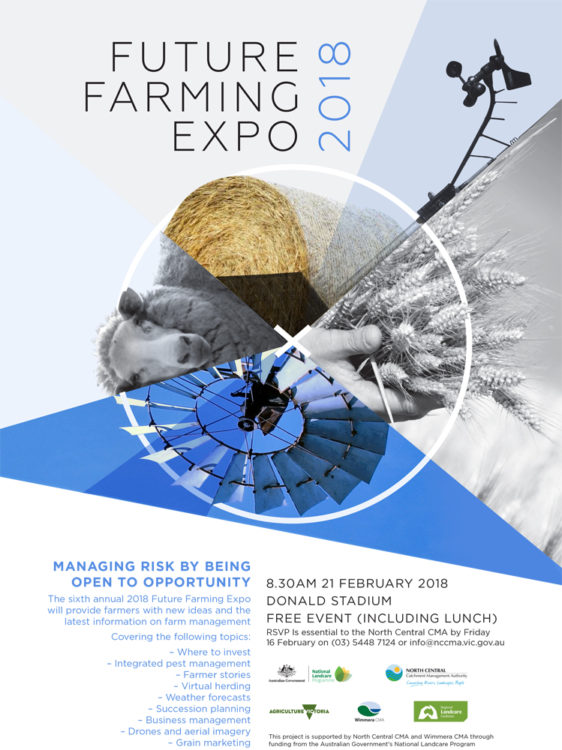 WHEN: 8.30AM 21 FEBRUARY 2018
WHERE:DONALD STADIUM
FREE EVENT (INCLUDING LUNCH)
RSVP Is essential to the North Central CMA by Friday
16 February on (03) 5448 7124 or info@nccma.vic.gov.au
SOCIAL MEDIA TRAINING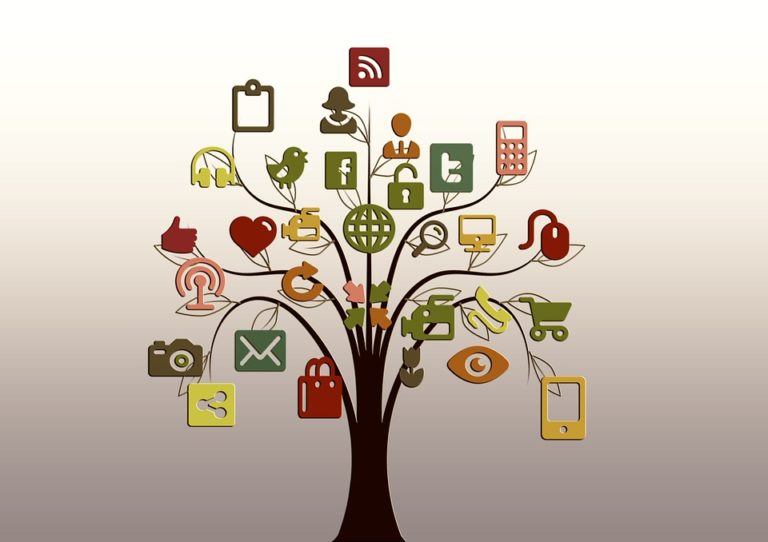 Facebook 101~Social Media Training
for Landcare Groups
When: Wednesday 21 March, 2018
Where: Rifle Brigade Hotel, Bendigo
NCCMA is hosting a Facebook 101 workshop to enable participants to both upskill and produce an implementation plan for social media, on Wednesday 21 March in Bendigo. Professionally facilitated by Friendly Savage Communications Consultants, this Facebook focused workshop will be presented in three bite-sized sessions. You can choose your preferred workshop or stay all day. Participants should have an existing Facebook profile and a basic knowledge of their phone or computer
For more information and to book please go to https://facebook101forlandcare.eventbrite.com.au or email tess.grieves@nccma.vic.gov.au
LIMITED PLACES AVAILABLE
Workshop topics include:
• Social media networking
• How to create engaging video.
• Content planning and best practice.
• Facebook Groups.
• Facebook Overview.
• Social Media Tools.
CHEMICAL USERS TRAINING COURSE
Do you want to learn the skills and confidence to safely and effectively use a range of herbicides, including some targeted herbicides for controlling specific weeds? Then you might be interested in doing a Chemical Users Training course. Please let me know as NCCMA will be offering one soon.
INTERESTED IN FARM WATER SUPPLY?
 Martin Hamilton from Ag Vic is looking to run some sessions on Farm Water Supply. The session details how to calculate how much water you have and how long supplies are likely to last as well determining pipe sizes, friction loss as well as demand. If anyone would be interested in knowing more about the above please let me know.
RESOURCES
NORTH CENTRAL CHAT
For the latest edition of the North Central Chat click here:NCChatFeb18

NEW WEED BROCHURES
Metcalfe, Langley and Malmsbury Landcare have worked with the Tarrangower Catus Control Group (TCCG) on a project producing brochures about weed control. Five brochures were created, one specific for each of the five wards within Mt Alexander Shire. The brochures highlight problem weeds in each ward and encourage landowners to manage their weeds by providing essential information.They also provide information about the responsibilities of landowners to manage weeds, the best control methods to use and where to find more detailed information.A digital version is available by clicking on this link – COLIBAN-Weed-Brochure-2018 . Hard copies available from the Mt Alexander Shire Offices.
If you have a neighbor that is not being responsible about their weeds, maybe you could put one in their letter box?
 VICTORIAN LANDCARE MAGAZINE LOOKING FOR STORIES !
The winter 2018 issue (#72) of the Victorian Landcare magazine is a feature on Landcare and research. Stories on all aspects of Landcare-related research are sought, from citizen science projects through to large scale experiments and trials. Readers of the magazine are keen to learn about the successes of research projects, as well as what hasn't worked, and the insights and reflections of your group along the way. Please contact Carrie Tiffany (editor) with your story ideas – editorviclandcare@gmail.com
Contributions for the winter 2018 issue of the magazine should be sent to the editor by Thursday 29 March 2018.
CLICK HERE for more information on the contribution guidelines for the Victorian Landcare magazine.
JUNIOR LANDCARE
You can access the latest Junior Landcare newsletter by clicking on this link. JuniorLandcare2018
LANDLINK
The latest Land Link is available here – LandLinkJan18
LANDCARE AUSTRALIA NEWS
For the latest Landcare Australia News click on this link – LandcareAustraliaNews
GRANTS
 MT ALEXANDER COMMUNITY GRANTS PROGRAM
Applications are now open for Council's Community Grants Program. Grants of up to $3,000 are available to incorporated and not-for-profit community groups and organisations to support local community-based projects and initiatives that align with Council objectives.
Applications will close on 23 February 2018 at 4pm.
Download the Program Guidelines
For additional information about the Community Grants Program, please call 5471 1744 or email grants@mountalexander.vic.gov.au.
HEPBURN SHIRE COMMUNITY GRANTS PROGRAM
Community groups are encouraged to apply for funding for events, programs, projects and equipment.  Grants can be sought for amounts up to $2,000.
Prospective applicants must contact a Council Officer prior to submitting an application – refer to guidelines for contact details.
Community Grants Program Guidelines 2017-2018
MACEDON RANGES SHIRE COUNCIL SMALL COMMUNITY GRANTS SCHEMES
The Small Community Grants Scheme supports community projects that are unlikely to be funded through annual funding schemes.They are open throughout the year, except in the lead up to a Council election.More info at this link NextWho can apply?
ABORIGINAL WATER GRANTS PROGRAM  2017/18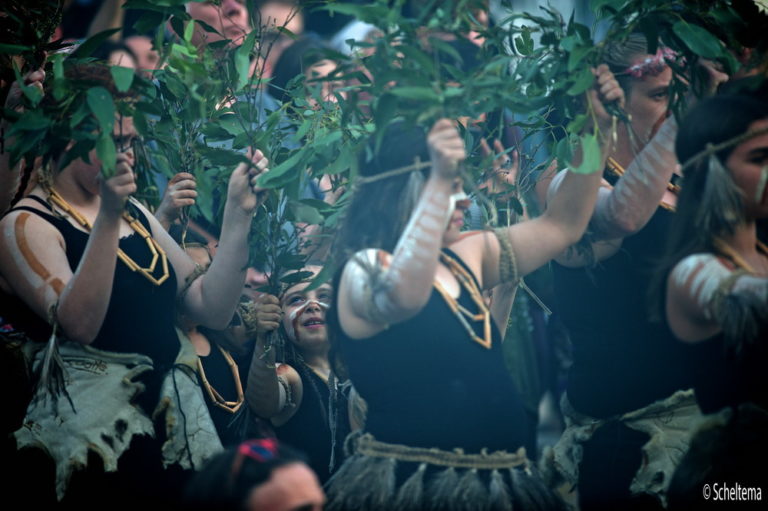 Aboriginal communities' connection to country is basic to their sense of identity and cultural continuity.Victoria's waterways are an important part of country that have been damaged by the development of the state's water resources. There are opportunities to restore this damage and in doing so enhance Aboriginal communities' well-being. Also, improving Aboriginal Victorian's access to water resources on country offers important opportunities for economic development. Find out more below.closes Wed. 7 Feb.
How to apply:
1. Download and read the Application Guidelines (PDF, 401.8 KB).
2.        Complete the application form online.