"WE DON'T HAVE TO ENGAGE IN GRAND, HEROIC ACTIONS TO PARTICIPATE IN THE PROCESS OF CHANGE. SMALL ACTS, WHEN MULTIPLIED BY MILLIONS OF PEOPLE, CAN TRANSFORM THE WORLD."
    Howard Zinn
SPOTLIGHT ON SPECIES PROJECT UPDATE
GLENLYON UPPER LODDON LANDCARE GROUP JOINS UCLN
MOTHERS DAY PLANTING WITH CAMPASPE RIVER AND LAND MANAGEMENT GROUP
TYLDEN LANDCARE
UCLN NOW ON FACEBOOK
EVENTS, RESOURCES AND GRANTS
SPOTLIGHT ON SPECIES PROJECT UPDATE
A Forum in Newham in March, attended by over 100 people, launched the UCLN Spotlight on Species Project. Three expert speakers, Dr Todd Soderquist, Dr Ross Goldingay and Jess Lawton shared their wealth of knowledge about the three iconic species we are looking for -powerful owls, greater gliders and phascogales.
"The distant call of an owl is often faint, and so as you stand in the darkness reaching out to hear it the world falls away in an almost Zen-like moment." said Dr Soderquist at the Forum, who has over twenty years experience working with phascogales and Powerful Owls.
UCLN is working with the Macedon  Ranges Shire Council and more than 15 community groups and schools to conduct the surveys looking for the three species and is entering the resultant data into the Victorian Biodiversity Atlas. UCLN Threatened Species officer Brad Blake has been leading the spotlighting events and installing remote sensing cameras on public and private land.
In the last two months 12 phascogales, 2 powerful owls and 5 greater gliders have been recorded.
We hope that at the end of this two year project our community will have the capacity to find and identify these species and enter this important data into the scientific record.Knowing the species and feeling connected to them is the first step to protecting the habitat that will ensure their survival.
If you would like to join in a Spotlighting survey please go to our website at /about-us/spotlight-on-species/ where you can see the dates and register to attend.
We have also produced DL brochures on the three species, so if your group doesn't have these yet and would like some for their members please contact me. See Powerful Owl brochure below.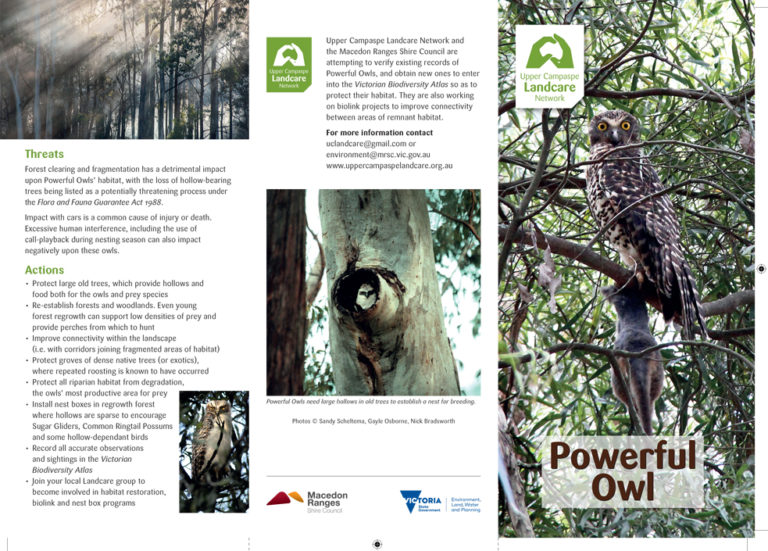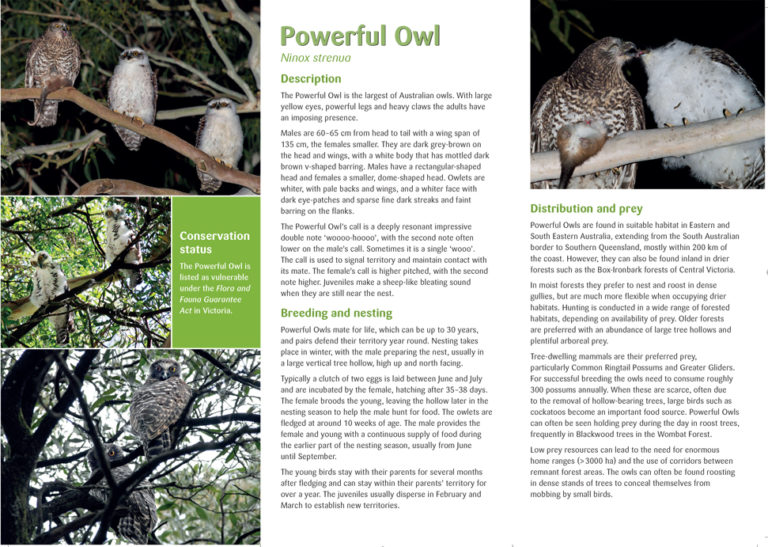 If your group would like to get involved in the remote camera project and discover what critters are around at night,  please contact UCLN Threatened Species Officer Brad Blake on brad@proconpest.com or 0421823998 to have cameras installed.
 GLENLYON UPPER LODDON LANDCARE GROUP JOINS UCLN
I am delighted to welcome a new group to our Landcare Network – the Glenlyon Upper Loddon Landcare Group.This hard working group has the Loddon River running through their boundaries and shares many of the UCLN goals.
The group formed in 1996  focusing  on weed control and re-vegetation, funded mainly by drought recovery money.Member Margret Lockwood said "In recent years the main focus has been the development of a 2 1/2 km walking trail from the Glenlyon Reserve to the Glenlyon Store with interpretative signage describing flora and fauna and environmental issues.We are hoping to include the Dja Dja Wurrung history of the area also.It's our vision to continue the walking trail down to Loddon Falls, an extra 4 km.The falls are very special with great natural beauty."
The walking track also functions as a biolink of native flora and fauna.It's a little upland river valley.Said Margret "We wanted to join the UCLN because we felt we had similar goals.Geographically we are more aligned with the Landcare groups in the Central Victorian Uplands."
In November the group  will have an artist in residence running workshops on weaving and sculpture from found materials from the biolink.They have just finished a successful series of "Whats in Our Backyard" workshops, looking at issues such as flora and fauna, water quality, raptors and invertebrates.
MOTHERS DAY PLANTING WITH CAMPASPE RIVER AND LAND MANAGEMENT GROUP
Why not come along to the Kyneton Botanic Gardens on the 13th May, enjoy the beautiful autumn colours and plant a tree for your mum.
Campaspe River and Land Management Group will be providing River Bottle Brushes for planting along the Campaspe River . "Why not pay tribute to your Mum and help in our regeneration of the Campaspe River. Trees For Mums is a National Celebration of all Mothers. Its a beautiful gesture and a great experience to share with family and friends. Bring along gardening gloves, a trowel and sturdy shoes and enjoy the autumn colours of our beautiful Botanic Gardens and Campaspe River environment and create a living legacy for your mum. Morning tea will be provided." said Peter Harding, President of the Campaspe Valley Land Management Group.
Trees For Mum first started in Sydney in 2002 by friends and colleagues, Deena Raphael and Lauren Adlam, as a way of paying tribute to their Mums, who they had both lost to cancer. It has grown since then to become a National Event with over 30, 000 sons and daughters planting trees for their Mothers.
For further information contact Per Harding on psharding77@gmail.com or 0419625600
WHERE: Pig Pens, Kyneton Botanic Gardens (via McKenna Drive, or if on foot via Campaspe River Walk)
WHEN: 10.00 am 13th May 2018
WHY: Commemorate your mum by planting a tree this Mothers Day
TYLDEN LANDCARE
Towards a Healthy Little Coliban River
Students at Tylden Primary School have been hard at work "pricking out" small plants from seedling trays for further growing and hardening off before planting along the Little Coliban River later this year.
James Stewart of Tylden Landcare said "The students have enthusiastically embraced the program and have propagated indigenous trees, shrubs and grasses. Seed has been collected from local indigenous plants because these are most suited to local environmental conditions. The students are very aware that indigenous vegetation offers food and homes for native animals, prevents soil erosion and keeps the air clean. These plants will be planted along the Little Coliban River with Tylden Landcare  as part of the Coliban system Integrated Catchment Management program."
Tylden Landcare is working with landholders along the Little Coliban River and the North Central CMA to protect and rehabilitate the Little Coliban to ensure a healthy water supply for farms and all users of the Coliban water storage system. 
Along with parents, school staff assisted students on the day and said, "The senior students did a great job of passing on their plant propagation skills to the younger students!"
UCLN NOW ON FACEBOOK
If you use Facebook and want to be kept informed of UCLN events and activities we now have a Facebook Page.  Click here to see more. –UCLN Facebook.
Please like and share to promote to a broader audience. Dont forget you can also see events at our Calender on our website https://www.uppercampaspelandcare.org.au/calendar/ 
EVENTS
BEE KEEPING WORKSHOP IN MAY AT BALD HILL RESERVE
Would you like to learn more about bees? An introductory workshop for backyard bee keeping – Bee Happy – will be held in May (date to be confirmed) at Bald Hill reserve and is being run by Pipers Creek Landcare in May.For more details contact Peter Sporle at piperscreeklandcare@gmail.com
RIVER RESTORATION FIELD DAY 12TH May
The UCLN River Restoration Field Day in March was cancelled due to high fire danger and very high winds and is now rescheduled for 12th May.Please contact me on uclandcare@gmail.com soon if you would like to attend.Only a few places left!
SERRATED TUSSOCK FIELD DAY
Worried you might have serrated tussock on your property and dont know how to manage it?
Come along to this workshop to have all your questions answered.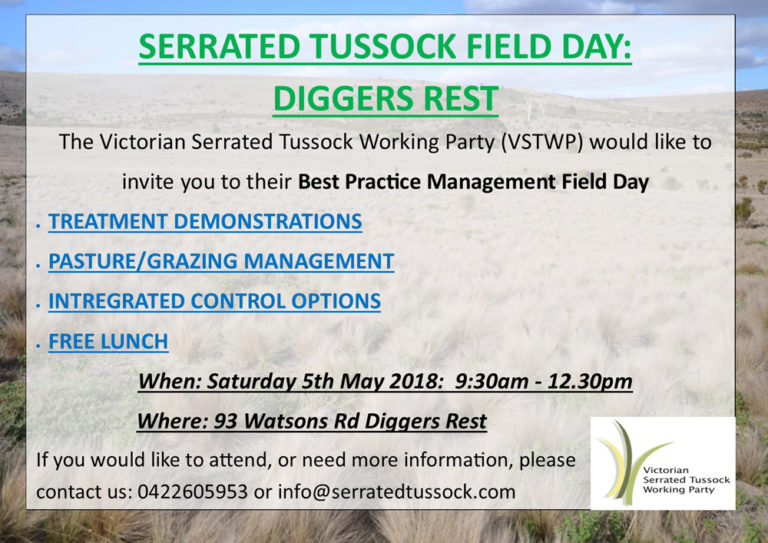 DUAN TALK MAY 3RD 7-8 pm MALDON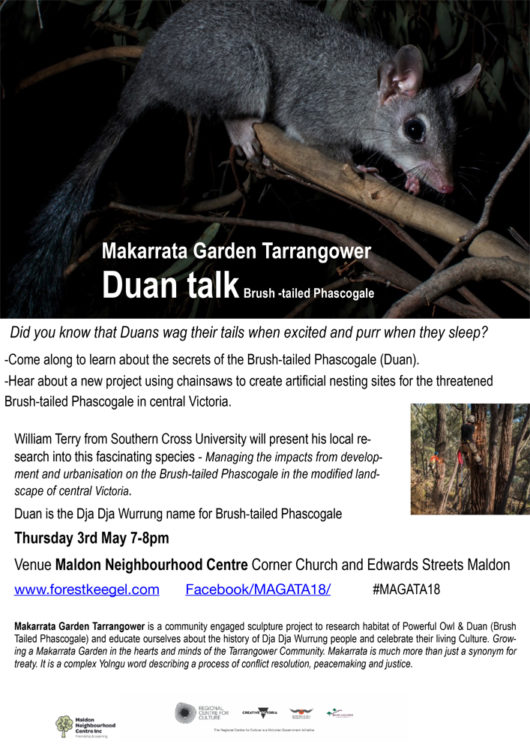 LANDCARE VICTORIA  FORUM QUEENSCLIFFE 25TH -26TH MAY 2018
Like to learn from fellow Landcarers in the Corangamite area? Why not attend the next Landcare Victoria Forum at Queenscliffe.
Register at https://www.surveymonkey.com/r/VKYRZ2W and the promotional flier and the draft programme are available here.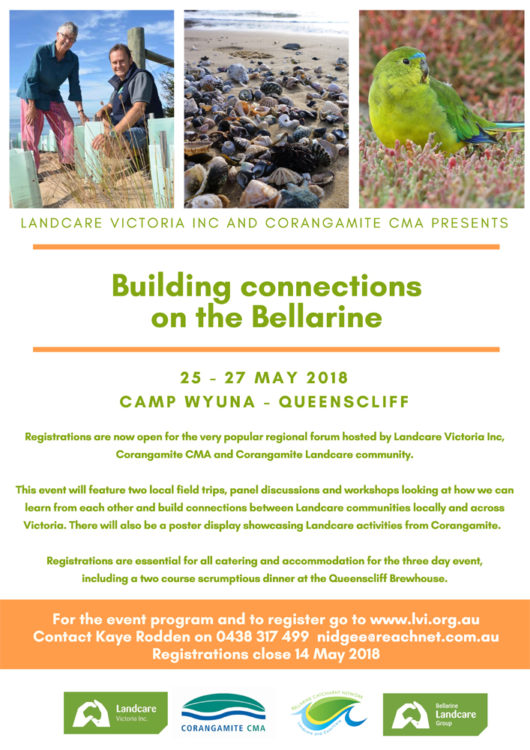 PLATYPUS – 'ASK THE EXPERT' VIRTUAL SESSION WITH TIANA PRESTON June 5th
A great resource for any schools involved with your Landcare group – a virtual session on platypus being hosted on World Environment Day.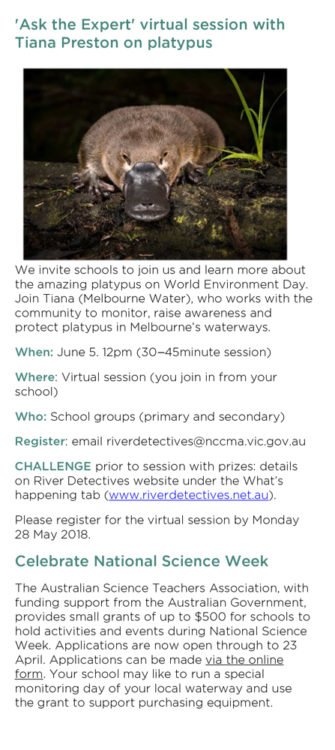 NATIONAL LANDCARE CONFERENCE 10-12TH OCTOBER BRISBANE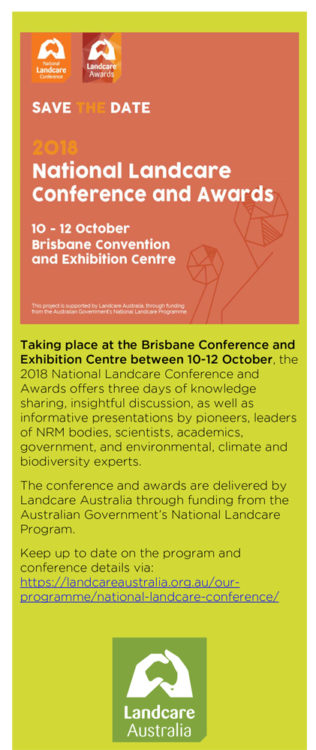 NORTH CENTRAL CHAT MAY 2018
Click here to read the North Central Chat: May edition  and if you missed it here is the April edition  North Central Chat
LANDCARE AUSTRALIA LANDLINK APRIL ISSUE
To read the latest Landlink click here: Landcare Australia Landlink
YOUNG FARMERS WANTED!
Expressions of Interest are now open to join the Young Farmers Advisory Council from young farmers and those involved in the food and fibre supply chain.
Council membership: the Council consists of eight members with a balance of representation by gender, industry and region. Collectively, Council members will have a broad range of skills and experience, including farm management, agribusiness, finance, education, international markets and regional development.
Council's role: council members provide advice to the Victorian Government about practical actions and opportunities to attract and retain young people in agriculture. The council also assists government to better understand the needs of young people in agriculture and helps to develop solutions and shape support for young people on the land. In 2018, the Council will focus on implementation of its Recommendations Report.
Council members also act as young ambassadors to attract new entrants to the state's agriculture sector and help to shape future support for young people on the land.
EOIs close: Expressions of Interest to join the Council close on 11 May 2018.
More information: visit http://agriculture.vic.gov.au/agriculture/food-and-fibre-industries/young-farmers/advisory-council 
YOUNG FARMERS SCHOLARSHIP PROGRAM
Young farmers in Victoria can access scholarships of up to $10,000 to help boost skills and implement new on-farm initiatives.Up to $10,000 is available for farmers and farm workers aged 35 years or under to help them with professional development and career progression.
This includes $5,000 for study, backed by a further $5,000 to invest on-farm or in professional development activities to help put new skills into practice.
The Victorian Government's Young FarmersScholarship Program aims to support young farmers to build productive and profitable careers
in agriculture. The Program recognises that in the future, young farmers will need a broad range of skills so they can embrace new technologies, respond to a range of challenges and capitalise on emerging opportunities.
Applications close: 24 April 2018
For more information and to apply visit:Young Farmers Scholarships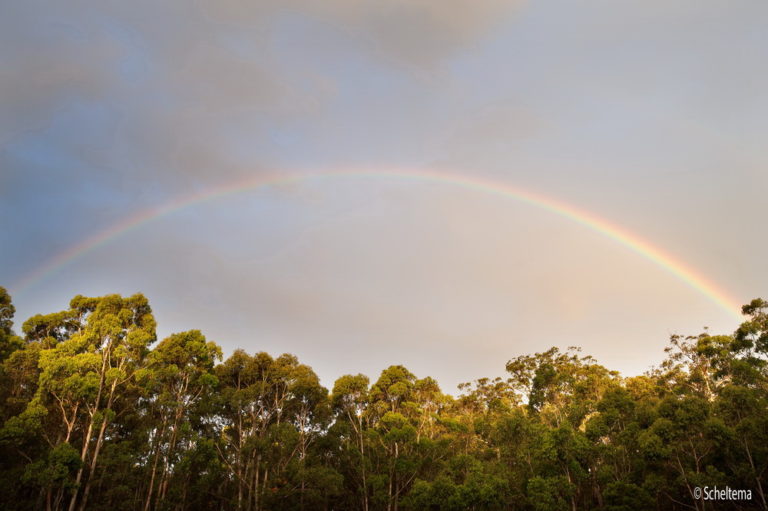 PREMIERS SUSTAINABILITY AWARDS
Entries in the 2018 Victorian Premier's Sustainability Awards – which recognise individuals, communities, organisations and businesses that are leading the way to a sustainable future – have been officially opened.
The 2018 Premier's Sustainability Awards categories are:
Built Environment
Community
Education
Environmental Justice
Environmental Protection
Government
Health
Innovative Products or Services
Small and Medium Enterprises
Large Business
Entries are open now. For more information go to sustainabilityawards.vic.gov.au
GRANTS AVAILABLE
 WETTENHALL ENVIRONMENT TRUST SMALL ENVIRONMENT GRANTS SCHEME
The  Wettenhall environment trust are looking for projects around :
flora and fauna conservation (Australia-wide)
threatened mammal conservation (Australia-wide)
landscape restoration and education (Victoria only)
These projects should involve any of the following:
monitoring, recording and sharing data
delivering community education
providing community capacity building (e.g. training)
research and science

Application Process Diagram – these are the questions that will appear in the on-line application.
Can you Apply page – more details on eligibility. Please don't waste your time filling in the EOI – see if you are eligible first.
Frequently Asked Questions – your question might get answered here.
Dates for applying – we have four rounds every year.
Apply here – here is the online application form, which only appears live when a grant round is open.
PICK YOUR PROJECT: New Fund For Locals, Decided By Locals
Pick My Project is a new community grants initiative, with $30M available to fund local projects. Come up with an idea, vote for your favorites and make your community an even better place to live.
Project ideas: Victorian residents are encouraged to submit ideas for projects that could benefit their community. Ideas could include sporting/recreation infrastructure/activities, community arts or culture projects, improvements to community facilities, and improvements to the local environment etc etc.
Choosing projects: eligible ideas will be put forward for community voting. During voting, applicants will work with their networks and encourage their community to vote for their project. Local projects will be chosen by local residents. Communities will get to vote for the projects they think are most important.
Sponsor organisation: as part of the application process, Victorians will need to identify an eligible organisation to sponsor, or support, their idea and to administer funds through a registered ABN.
Eligible organisations could include a local community organisation or school, local council, or other eligible group.  More information on eligible organisations will be made available in May 2018. able to help deliver the project.
Guidelines: there will be no restrictive guidelines – meaning many local priorities that fall-between the cracks of other grant programs will be eligible for funding.
Who can be involved: all Victorian residents aged 16 and over will be able to submit their idea for consideration under the program. For participants under 18, parent or guardian approval will be required.
Funding for projects: projects can cost $20,000 and $200,000. Funding will be spread across the state, giving every community the chance to benefit.
When: the initiative will start in May. Winning projects will be announced in September 2018.
Register your interest: register via pickmyproject.vic.gov.au
More information: email contact@engage.vic.gov.au call 1800 797 818 or connect on Facebook www.facebook.com/pickmyproject