" NO ONE WILL PROTECT WHAT THEY DON'T CARE ABOUT, AND NO ONE WILL CARE ABOUT WHAT THEY HAVE NEVER EXPERIENCED."
David Attenborough
Welcome to the Winter issue of our ENews. At the UCLN General meeting last week, it was fantastic to see so many groups present and hear about the wonderful work they are doing to protect the natural environment in their area. I hope you enjoy reading about our Citizen Science project to look for threatened species, and the inspiring work some of our member groups are doing.
SPOTLIGHT ON SPECIES UPDATE
MALMSBURY'S WAR ON GORSE
PRISONERS HELP PHASCOGALES
TARADALE LANDCARE JOINS THE UCLN
NATIONAL TREE PLANTING DAY
RIVER GUARDIANS
EVENTS, RESOURCES AND GRANTS
SPOTLIGHT ON SPECIES UPDATE
The UCLN Spotlight on Species Project is now six months underway and is getting great results. As a result of the remote camera trapping and evening spotlights we have now recorded 24 Phascogales, four Powerful Owls and thirteen Greater Gliders. This valuable data has been entered into the Victorian Biodiversity Atlas and will help protect the habitat of these precious species. 37 cameras have been deployed at 17 properties over 777 camera trap days with 33 species recorded.
25 – 1 km transects have been surveyed (based on existing VBA records) with 33 Spotlighting events conducted along them resulting in 25 species recorded in the VBA. Many people have attended the spotlights and got great joy out of seeing the iconic greater gliders for the first time.
If your Landcare group or members would like the UCLN Threatened Species Officer Brad Blake to install remote cameras to look for species such as phascogales please contact him on  0421823998 or brad@proconpest.com. You can see the dates of upcoming Spotlighting Events by clicking on Spotlight on Species and scrolling down to the monthly calender's.
If you would like to learn more about this project click here to read an article in the latest Victorian Landcare Magazine.
MALMBURY AND DISTRICT  LANDCARE'S  WAR ON GORSE
Malmsbury and District Landcare group is continuing its tenacious War on Gorse.The Coliban River flats at Lauriston are badly overgrown by gorse, blackberry and willow which is  negatively impacting upon the stream banks and water quality.
The Malmsbury group's project RIVER RECOVERY – LINKING LAURISTON TO THE RESERVOIR aims to address the problem by removing the weeds -"for the benefit of all residents, whether human or wildlife.It is viewed by Malmsbury Landcare as a long term project" said President John Walters. The group  received a Upper Coliban Landcare support grant of $30,000 from the NCCMA – designed to support the UCLN Coliban Connections Biolink Project- to undertake the important work. Tylden Landcare and the Friends Of Trentham Creeks and Reserves also received funds as part of this project to continue improving river health on the Coliban River and it's  tributaries.
The group has also undertaken extensive weed control at Kangaroo Creek."What we have here is a ecological vegetation class (EVC) creek line herb rich woodland classified as vulnerable.One of the things we are trying to protect in Biodiversity terms is the EVC .Weeds like gorse choke out the vegetation and create a fire risk.We have records of powerful owls and greater gliders here, we need to remove the gorse to remove threat of fire.Whatever we do to improve the biodiversity here will improve the habitat of the powerful owls and greater gliders."
PRISONERS HELP PHASCOGALES
Phascogales in the Barfold area will soon be getting new homes thanks to inmates at Middleton Prison, Castlemaine. The inmates have been hard at work constructing 20 nest boxes for the Campaspe Valley Landcare group suitable for the phascogales, a threatened species found in Central Victoria.
The distinctive small creatures, known as 'Duan' by the Dja Dja Wurrung people tap their feet when alarmed, and wag their tails when excited. They were found recently near Barfold as a result of the UCLN Spotlight on Species Project.
President of Campaspe Valley Landcare Jan Elder said "We were thrilled to find images of phascogales on the remote sensing cameras that the UCLN Threatened Species Officer Brad Blake installed. The woodlands and dry forests of Central Victoria were once a stronghold for these threatened species, but their numbers have declined over the last century mainly due to land clearing and cats and foxes." 
"Our group hopes that by installing these nest boxes, kindly built for us by the Middleton Prison inmates, we will be helping to increase their chances of survival in our area."  
A recent genetic analysis of 435 phascogale tissue samples, four from the Kyneton area, concludes that fragmentation of populations is probably causing limited gene flow.This illustrates the  need for better connections in the landscape which is why biolink projects such as those undertaken by the UCLN and its member groups are so important.
TARADALE LANDCARE JOINS THE UCLN
We are  very pleased to welcome Taradale Landcare as the latest group to join the Upper Campaspe Landcare Network.
The group is working along Back Creek, a tributary of the Coliban River. "Our primary goal has been to revisit Back Creek, which runs through the town, and rejuvenate the work of the earlier Landcare volunteers. We are removing woody weed regrowth and extending and diversifying planting. I just noticed we had a white-throated tree creeper feeding on a tree planted ten years ago. It takes that long for the tree to grow tall and wide enough to become suitable habitat for these birds."
The group is hoping that by clearing and removing willows and other weeds the creek should flow again, and once again be a place for swimming and platypus as it  was previously. Taradale Primary School is also regularly involved in planting days and uses the creek as an open classroom.
In addition the group is working on roadside weed removal with funds provided by Mt Alexander Shire Council. This work is being undertaken at three sites of high biodiversity values that are leading into the forest along the edges of Fryers Ridge Conservation Reserve.
NATIONAL TREE PLANTING DAY WITH CAMPASPE RIVER AND LAND MANAGEMENT GROUP
Why not join in with the CRLM group along the Campaspe River in Kyneton on National Tree Day Sunday 29th July to help revegetate the river?
National Tree Day is Australia's largest tree planting day. It started in 1996 and since then more than four million people have planted over 24 million trees and plants with the aim of caring for our land.
WHERE: The River end of Jennings St Kyneton (look for the CRLM trailer)
WHEN: 10 am  – 12 pm Sunday 29th July 
WHY: To help the CRLM group plant out trees and shrubs such as the River Bottle Brush.
Morning tea is provided.Wear gumboots, gloves and warm clothes. Tools and a delicious morning tea provided.
RIVER GUARDIANS
Wild and windy weather didn't deter prospective River Guardians from walking along the Campaspe River at Carlsruhe  at a UCLN River Restoration Field Day in May. 32  people braved the elements to learn from 6 experts in the field how to restore river health. They were inspired by award winning river ecologists such as Damien Cook to protect the rivers and wetlands in their area and learnt some of the skills that would help them do so.
GRANTS
Apply before 20 July to ensure your school or group is in the running to secure a $5,000 grant! 
Exciting news for Victorian schools, kindergartens, childcare centres, Scouts, Girl Guides and youth groups that are interested in working on a Junior Landcare biodiversity project in 2018-19. The Victorian Department of Environment, Land, Water and Planning in partnership with Landcare Australia is giving your school or group the opportunity to apply for a grant of up to $5,000 (excl GST) as part of the Victorian Junior Landcare and Biodiversity Grants.
Apply now
EVENTS
2018 NATIONAL LANDCARE CONFERENCE AND AWARDS
Like to learn about all things Landcare? Then head up to  Brisbane for the 2018 National Landcare Conference
The early bird catches the worm. The 2018 National Landcare Conference and Awards is your opportunity to contribute to, engage with, and learn from your community and peers. Over three days, you will have the opportunity to be inspired by keynote speakers and informative presentations, take part in fun social events, and experience educational field trips.
Early bird registration closes 31 July 2018. REGISTER HERE
RESOURCES
 WINTER LANDCARE MAGAZINE
Issue 72 of the Victorian Landcare and Catchment Management magazine, which is a feature on Landcare and research is now available online. 
Among the stories in issue 72 are stories on: vegetation quality assessment by smart phone, citizen science, the social return on investment in Landcare projects, alternative fertiliser trials, and gorse and cactus bio control.
To read this issue of the magazine online (via Victorian Landcare Gateway) go to https://www.landcarevic.org.au/landcare-magazine/winter-2018/
To download the PDF version of this issue (and back issues) of the magazine and to access the magazine's index go to https://www.landcarevic.org.au/resources/magazine-library/
This issue features our Networks Spotlight on Species Project and is mentioned by the Minister in the introduction. Direct link to story here:
NORTH CENTRAL CHAT July 2018
Click here to read the North Central Chat: North Central Chat July 18
WOMBAT FORESTCARE NEWSLETTER JUNE 18
If you are interested in fungi you must read the latest beautiful newsletter from  Wombat Forest Care.
SERRATED TUSSOCK SIGNS AVAILABLE FOR FREE
The VSTWP have a number of Serrated Tussock Landowner Signs available for 'Community Champions' of Serrated Tussock management in Victoria. The signs are designed to be attached to landowner fences that face a roadside, and help the community deliver key messages on controlling this noxious weed.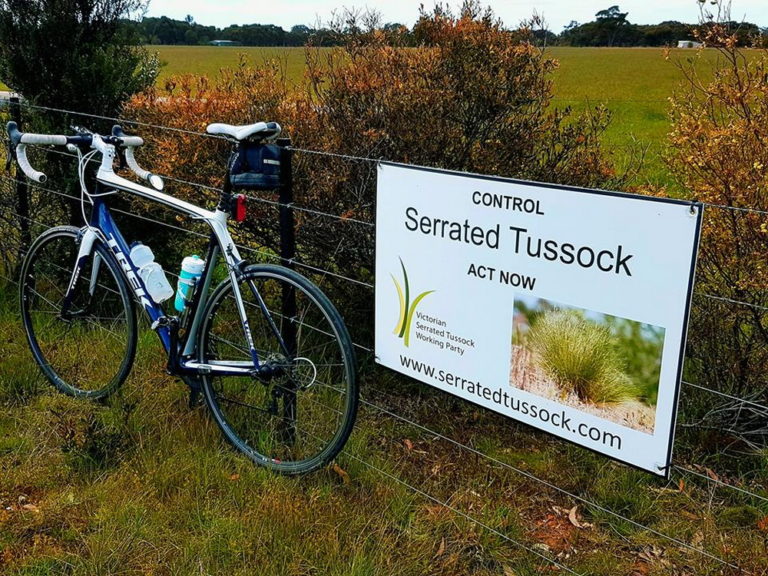 If you would like to order a number of the these signs, please email  Executive Officer Martin Deering and he can post them out to you for free:
AUSTRALIAN TAXATION OFFICE HELP SHEET ON SHELTER BELTS.
ATO help sheet: Establishing shelterbelts on land used in a primary production business
https://www.ato.gov.au/law/view/view.htm?docid=AFS/ShelterBelts&PiT=99991231235958