PLANT A TREE FOR MUM
METCALF LANDCARE CARES FOR CASCADES
SENIOR CONSERVATION BOTANIST AT BLACK HILL RESERVE
UCLN MEMBER GROUPS JOIN FORCES ON BIOLINK PROJECT
PLANTING BEGINS AT TRENT CREEK
TYLDEN GORSE CONTROL FIELD DAY
GRANT OPPORTUNITIES
EVENTS
NORTH CENTRAL CHAT AND MORE
Welcome to our April ENews. It's wonderful to see the beautiful autumn colors  in the Central Highlands, and the recent heavy rains have soaked the ground well for the planting many of you will be doing at this time of the year.This ENews has lots of fantastic events plus news from our member groups and grant opportunities.
"Very great change starts from very small conversations, held among people who care."  said Margaret Wheatley. I know many of you are translating those conversations into action on the ground, creating a better environment for all of us.
PLANT A TREE FOR MUM THIS MOTHERS DAY
What better way to honour your mum this Mothers Day than to leave a living legacy in the form of an indigenous plant.
You can do so by joining in with either Woodend Landcare or the Campaspe Land and River Management Group on the 14th May.Bring waterproof shoes and gloves.
KYNETON
WHERE: Kyneton Botanic Gardens ( enter KBG via tourist dr off Mollison st, drive 200 mtrs to where cars parked.Walk towards Railway Wier 200 mtrs downstream Mollison St bridge.Follow signs.)
WHEN:Sunday 14th May 9.30 to 12.00pm (stay for 30 mins or 2 hours).
MORNING TEA PROVIDED TO SUSTAIN PLANTERS AND MAINTAIN ENERGY!
contact Peter Harding 0419625600 for more info
WOODEND
WHERE:Lake Earnshaw,behind Gilbert Gordon Oval
WHEN:Sunday 14th May 9am -12 pm
contact Angela Van Dam for more info on 0409 373 010.
METCALF LANDCARE CARES FOR CASCADES
Metcalf Landcare has been busy improving the health of the beautiful Coliban River at the Cascades by  undertaking ongoing woody weed removal and creating habitat and  nest boxes for phascogales.
"The Cascades are special to the Metcalfe locals and visitors "in the know", with its massive granitic rocks and the seasonal ebbs and flow of the Coliban.  After heavy rains it becomes an awesome torrent.  At quieter times it a favorite swimming and children-safe play area.  It offers shade, sandy spots and picnic areas.
The Metcalfe Landcare Group tackle the endemic woody weeds and willows to allow native trees and grasses to flourish.  The Group has already won grant monies to clear weeds and this year is beginning to replant the Cascades proper and extend the area of restoration downstream towards the bridge, working with willing property owners on the way." said Metcalf Landcare President Michael Nott.
SENIOR CONSERVATION BOTANIST AT BLACK HILL RESERVE
This is a rare opportunity to hear from a leading authority on native plant recovery.
WHAT : SENIOR CONSERVATION BOTANIST PRESENTING AUDIO VISUAL / WALK AND TALK AT BLACK HILL RESERVE
WHEN: 10 am WALK AND TALK BLACK HILL RESERVE 2.30 – 4.00 pm KYNETON MECHANICS HALL  SATURDAY 13TH MAY
WHERE: BLACK HILL RESERVE ROTUNDA 10 am, KYNETONS MECHANICS HALL 2.30PM 
Neville Walsh,  Senior Conservation Botanist at the Royal Botanic Gardens Victoria, will talk to the Friends of Black Hill regarding post fire recovery and other matters.
Neville will talk about recovery of various plant species from fire, especially high-plains and alpine tree species after the fires 15 years ago, as well as unusual species that only appear post-fire.
Neville started working at the National Herbarium of Victoria in 1977.
He has worked on recovery strategies for endangered species
genus Pomaderrisin the family Rhamnaceae,
buttercup family (Ranunculaceae),
grasses (Poaceae),
the Boronia family (Rutaceae),
the daisy family (Asteraceae),
Lobelia and its Australian relatives in the Campanulaceae.
He is a member of the recovery team for the endangered Helmeted Honeyeater. He co-edited the 4-volume "Flora of Victoria."  (Every home should have one)
Neville manages the Victorian Conservation Seedbank since 2005.He specialises in the taxonomy and ecology of alpine species is seeking to understand the nature of invasion of non-native species in alpine areas around the world.
An impressive number of Australian plant species like Pomaderris Walshii  strut their stuff with his name attached .
Please contact Alan Todd at  alan_todd@westnet.com.au or 0400502325 for more info.
UCLN MEMBER GROUPS JOIN FORCES ON BIOLINK PROJECT.
Progress is continuing on the UCLN Biolink projects  seven Landcare groups (Ashbourne, Malmsbury, Trentham, Tylden, Carlsruhe, Woodend and Newham)beginning planning.
The groups aim is to restore connectivity between areas of remnant vegetation so as to create corridors for the movement and protection of indigenous plants and animals.
President of UCLN, Alan Denehey, said they were trying to reverse the degradation of the natural environment that had occurred in the past.
"We are trying to slow that down, reverse it, repair it.We will be identifying and finding focal species.Given that we are trying to revegetate and create interconnected wildlife corridors, we are keen to engage landowners in our aim of creating native vegetation corridors as part of these landscape scale projects.We see this as a win for the environment and for the landowners through improved property amenity and farm efficiency."
For the latest media on this project go to biolink. and Advocate.
 PLANTING BEGINS AT TRENT CREEK
On a cold and blustery day in Trentham this week when the mercury didn't rise much over 7 degrees 40 primary school students, teachers and parents from Trentham Primary School joined forces with the Friends Of Trentham Creeks and Reserves to plant over 180 indigenous plants  at Trent Creek.
The children had a great time getting muddy whilst planting and learning  about the importance of protecting the riparian health of our environment.
Friends Of Trentham Creeks and Reserves received funds recently as a result of the Regional Riparian Action Plan Program to clear weeds and plant in the area.  The area has two species listed as 'rare' in Victoria –  the  Brooker gum –Euccalyptus brookeriana , and the Floodplain Fireweed -Senecio campylocarpus, and riparian forest (EVC18) listed as vulnerable in the Central Highlands Bioregion.
FOTCR   Convenor Jan Robertson said "We, the Friends of Trentham Creeks and Reserves, had a great time working along side the Trentham Primary School students.Their enthusiasm was well supported by school staff and parent volunteers.Having washed 40 pairs of small -size gardening gloves and dozens of hand -tools, my laundry smells like a damp swamp, but I will happily put the equipment  away for next  time."
TYLDEN GORSE CONTROL FIELD DAY
Tylden Landcare  recently held a Field Day   to inform property owners about the Victorian Gorse Task Force Program and demonstrate  a gorse grooming machine with integrated herbicide application.Participants were interested to watch how the Ecoblade (operated by Regional Vic Farm Services), cuts, mulches and poisons gorse and other woody weeds.
They learnt the advantages and disadvantages of the works and how different tools can be used in the rehabilitation of our local paddocks and landscapes.
President of Tylden Landcare Brnedan Smith said 'The aim of today is to demonstrate  effective and efficient long term gorse control and to ensure better environmental and economic outcomes. Gorse is a weed of national significance and also a regionally controlled weed, meaning landowners and managers are responsible for its control. This program allows governments,communities and landowners to work together on  gorse control."
"Tylden Landcare has secured funding from the Victorian Gorse Task Force of $19,500.We hope to control roughly 9 hectares of gorse infestation in the Tylden area."
The Field Day was held on the 148 acre property of John Ford. "We met Brendan at the farm gate -he was a gorse evangelist! He spoke about the program and the 50 % rebate and told us about an information session at Tylden Hall with Tylden Landcare. I went along  and thought  – this is a fast and effective way to get rid of gorse.This is a daunting patch of about 2 hectares infestation.We are addressing it under this program and are paying half the cost of the gorse eradication as a result of this grant." said John.
GRANT OPPORTUNITIES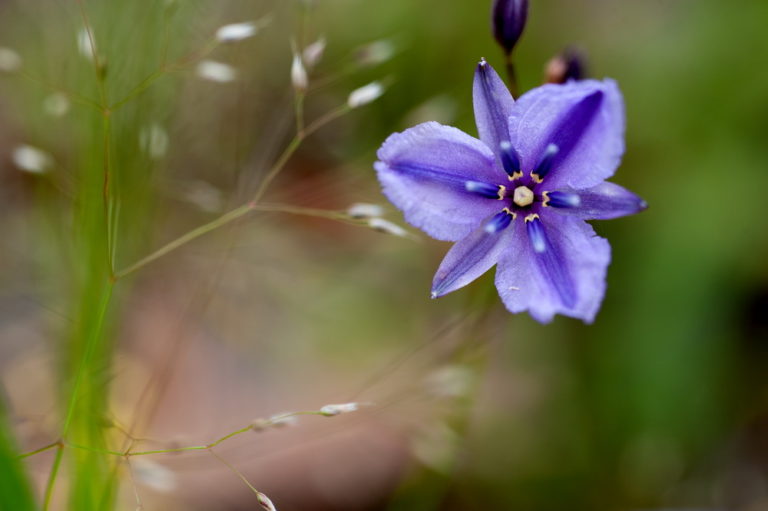 However whilst our governments announces its latest biodiversity strategy Australia has quietly added 49  species to the threatened and endangered lists.
Read more here – 49morespecies
 Patagonia Environmental Grants
Round 1 Closes: 30 April 2017

Round 2 Closes: 31 August 2017
About:
Patagonia funds only environmental work. They are most interested in making grants to organisations that identify and work on the root causes of problems and that approach issues with a commitment to long-term change. Because Patagonia believe that the most direct path to real change is through building grassroots momentum, their funding focuses on organisations that create a strong base of citizen support. Grants typically range between $2,500 – $15,000.
Info: For more information, visit the Patagonia website
Applications Close: 5 May 2017
About:
SUEZ believe strong communities build a better future for us all. Since 2013, the SUEZ Community Grants program has provided more than $400,000 to inspiring organisations and projects across Australia. They offer individual grants of up to $15,000 to fund social and environmental projects that contribute to a stronger community and healthier environment.
Info: For more information, visit the Suez Community Grants website
EVENTS
There is a wonderful array of events coming up. Dont forget to check our events calendar on our website if you forget what is on where .https://www.uppercampaspelandcare.org.au/calendar/
BIRDS OF PREY AT GLENLYON
This is a wonderful opportunity to see Birds of Prey at a Glenlyon Landcare event.See flyer below: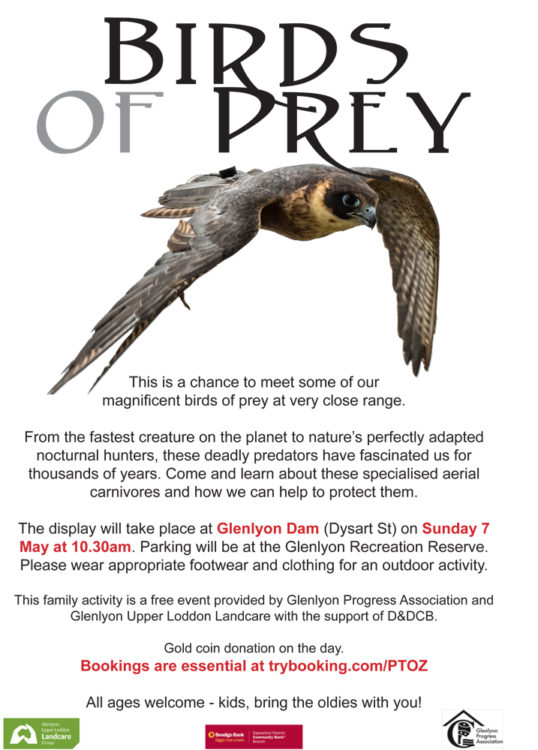 LINKING LANDSCAPES SYMPOSIUM
For those groups working on biolink projects dont miss this LINKING LANDSCAPES SYMPOSIUM , organised by  Central Victorian Biolinks.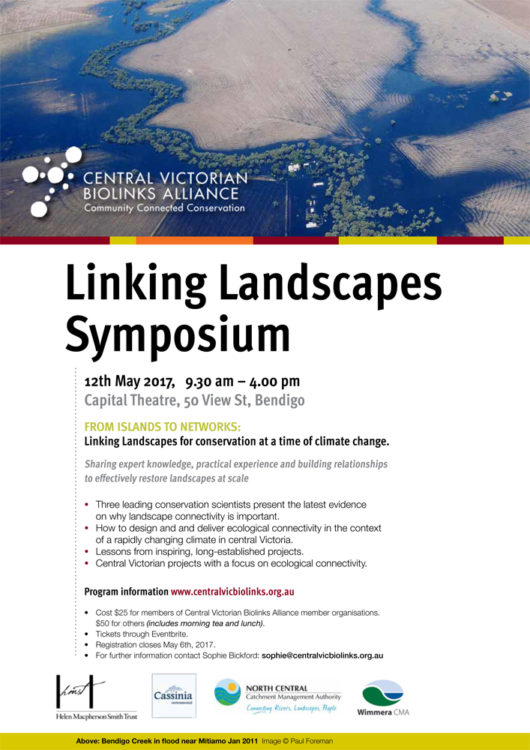 BALD HILL GEOLOGY EVENT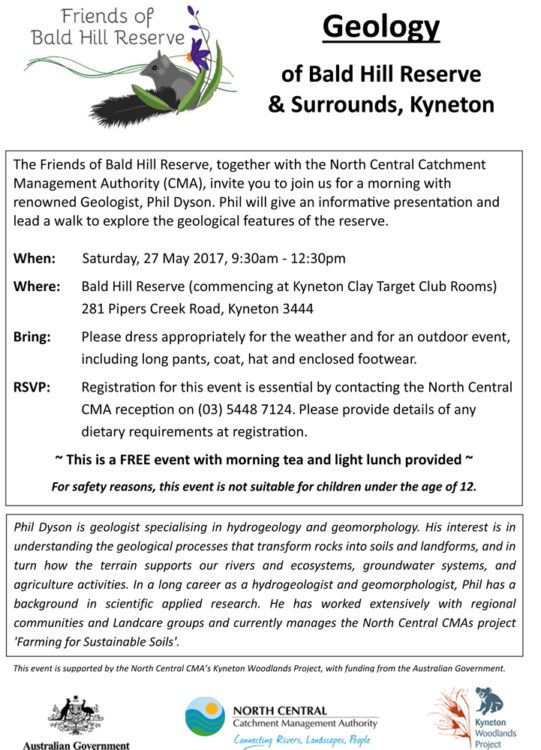 The Friends of Bald Hill Reserve, together with the North Central Catchment Management Authority (CMA), invite you to join them for a morning with renowned geologist, Phil Dyson. Phil will give an informative presentation and lead a walk to explore the geological features of the reserve.
Saturday 27 May 
9.30am-12.30pm
Bald Hill Reserve
281 Pipers Creek Road, Kyneton
PROTECT YOUR PATCH WORKSHOP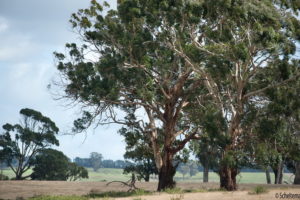 Are you looking for some assistance to help improve the biodiversity values of your rural property? Speakers from Trust for Nature, Land for Wildlife and the Victorian Government's native vegetation offsets program will answer your questions about the financial incentives and support available to help you protect your bush block.
Organised by Macedon Ranges Shire Council and the North Central Catchment Management Authority with funding support from the Australian Government.
Dates & Times
Tue 23 May | 7:00PM – 8:30PM
Contact
Contact:
Laura Jordan/Donna Liddicoat
Organiser:
Macedon Ranges Shire Council and the North Central Catchment Management Authority
Email:
environment@mrsc.vic.gov.au
Telephone:
5421 9660
NORTH CENTRAL CHAT AND MORE
CLICK HERE to view the April 2017 edition of the North Central Chat. This month's edition features information, Landcare stories and upcoming events.
To see our region's Landcare report card 2015-16 from Tess Grieves, our Regional Landcare Coordinator, CLICK HERE. It features our very own Malmsbury Landcare.
To read the latest Landcare in Focus go to  Landcare In Focus.
To read the latest Landline go to  landlink
For serrated tussock information from the Victorian Serrated Tussock Working Party go to https://www.facebook.com/serratedtussock
The release of the RHDV1 – K5 (Rabbit Haemorrhagic Disease Virus) took place on 6 March 2017. Agriculture Victoria are coordinating the release of the virus in Victoria.
The link below has some videos on RHDV1 – K5 and rabbit control in general.
More information: go to the Pest Smart website http://www.pestsmart.org.au/boosting-rabbit-biocontrol-rhdv-k5-national-release/ or contact John Matthews from Agriculture Victoria john.matthews@ecodev.vic.gov.au
And finally, for those of you that despise feral cats and the damage they cause here is a good article on  getting rid of them…..