GRANT SUCCESS WITHIN UCLN
TRENTHAM  DISTRICT LANDCARE
CAMPASPE VALLEY LANDCARE WEED WARRIORS
PIPERS CREEK LANDCARE
PROPERTY PLANNING WORKSHOP
CHILD SAFETY REQUIREMENTS
NORTH CENTRAL CHAT
PHOTOVOICE FOR WEEDS AND RABBITS
REVIEW OF FLORA AND FAUNA GUARANTEE ACT
CLIMATE READY REVEGETATION GUIDE
CSIRO GUIDE FOR MONITORING REVEGETATION
TWO APPS TO KEEP YOU SAFE, SUSTAINABILITY FESTIVAL.
Welcome to the February edition of our ENews. I hope you have all had a safe and relaxing Christmas and an enjoyable summer.
As David Attenborough said  "The future of life on earth depends on our ability to take action. Many individuals are doing what they can, but real success can only come if there's a change in our societies and our economics and our politics….Surely we have a responsibility to leave for  future generations a planet that is healthy, inhabitable for all species." A big thank you to all those Landcarers out there working hard to improve the health of their patch. For those of you involved in revegetation projects, make sure you check out the great guides at the bottom of the ENews. You may wish to visit the UCLN stall at the Macedon Ranges Sustainability Festival on the 4th March.
GRANT SUCCESS WITHIN UCLN
UCLN was successful with its 2016-17 Community Grants application.  The funding  will enable work to continue  on its biolink projects; the Coliban Corridor and the Cobaw Campaspe Connections. It will enable the Network to continue building on connectivity to enhance biodiversity in the two biolinks.
Using the Action Plans  completed as a result of last year's grant  (which can be seen on our website here – Action Plans ), ecologists will be engaged to develop an inventory of focal species, such as the Powerful Owl and Phascogale, and provide advice on their habitat requirements, and threats.
A least one field day will be held to involve the community in the ecological assessments. The work is designed to support the progress of the 'clusters' of the UCLN member groups as they move towards the goal of landscape-scale habitat repair and expansion.
UCLN President Alan Denehey said "This year's project, which follows on from the goals of our Strategic Plan and the excellent community engagement activities of last year, aims to extend the knowledge of our members and support their efforts as they plan and scope landscape restoration projects".
Congratulations also to Malmsbury Landcare for receiving funding for it's long-running Reclaim the Channel Reserve project.
"The centerpiece of that project is a walking path that takes in the magnificent Malmsbury viaduct, the largest stone bridge in the southern hemisphere," North Central Catchment Management Authority regional Landcare co-ordinator Tess Grieves said.
Ms Grieves said this was the most successful grants round ever for the region, with 92 per cent of applicants successful.
"That goes to show our Landcare groups are really on the ball and focused on the environmental projects that are important to their communities," she said.
Other successful UCLN member groups were:
Ashbourne Landcare Group for biolink matrix demonstration sites.
Carlsruhe Landcare to replenish and revegetate biolink one and two.
Minister for Energy, Environment and Climate Change Lily D'Ambrosio congratulated the local groups on their projects.
"The Victorian Landcare program is an investment in our future and it's fantastic to see these local groups receiving grants to support their important environmental projects," she said.
TRENTHAM DISTRICT LANDCARE
Trentham Landcare was also a successful recipient of a Hepburn Shire Community Grant to continue with their work removing weeds and planting native vegetation in the vicinity of  the historic Enders Bridge.
Members of Trentham Landcare recently enjoyed a  summer early morning  walk with bird expert Tanya Loos, from Connecting Country, to do a bird count on a property  on the edge of the Wombat Forest. Eighteen species of birds were observed.
"What was special for me was the quality of the habitat. When you retain diversity in the understorey and have mature trees you will also attract a diversity in the birdlife. To start with a stunning pair of obliging Gang Gang Cockatoos and end with a White-necked heron in shimmering breeding plumage are great signs of how well this property is supporting a wide variety of birds. It made for a fantastic morning with passionate Landcare members. " said Trentham Landcare member Kent Burgess, seen below.
CAMPASPE VALLEY LANDCARE WEED WARRIORS
Do you or your group need help identifying and managing Texas and Chilean Needle grass? Campaspe Valley Landcare has produced an excellent 'Ute Guide' to use out in the field which can help with the difficult task of identifying this weed, which is fast becoming a problem in the district. The guide is now available online on our website needle-grass-web-LR (1) . Or if you would like the booklet please contact Barbara James on 0458590642 or archiemcleod@gmail.com
THERE IS ALSO A NEW SERRATED TUSSOCK APP TO HELP YOU IDENTIFY THIS PESKY WEED
The Victorian Serrated Tussock Working Party (VSTWP) have developed its first App, which is guides landowners and managers through the process of how to identify serrated tussock.
The App is available through all smart-phones, tablets and computers and enables users to scroll through a series of screens that outline the important features to look for when attempting to identify serrated tussock (Nassella trichotoma). The App also features the Australia wide distribution of serrated tussock and allows users to move the interactive map around and see a time lapse over the past few decades.
The ID App can be accessed through the VSTWP website at http://www.serratedtussock.com/idapp or by clicking on the 'Identification App' icon on our website homepage: www.serratedtussock.com
Campaspe Valley Landcare does a wonderful job on controlling weeds in their area, with the help of the Mt Alexander Shire grants. They have an ongoing commitment to eradicating many weeds in their district and have advised the Shire for many years on roadside weeds over an area covering about 25 km. They also work in partnership with DELWP on gorse eradication on Back Creek (a tributary of the Campaspe River) with funding also provided from the Gorse Task Force.
Their members volunteer their time and equipment on neighboring properties to manage the spread of weeds. Says member Phillip Don "I'd like to do today what others wont, so the weed problem doesn't become too big tomorrow."  Another member, botanist John Stuwe, is compiling  plant lists from the area which will be used for future regeneration projects and for the protection of rare and endangered species. A great example of a Landcare group really making a difference in their area!
PIPERS CREEK LANDCARE
Another group that has done a terrific job managing weeds, particularly gorse, in their area is Pipers Creek and District Landcare. They have just welcomed Charlotte Blair as their new President. Said previous President Peter Sporle "I am handing over the reins to a new generation because the demographic in Landcare is rapidly aging. The successful groups are very family orientated now. We're excited to have a new family join our group and take on  executive roles."
New president Charlotte said "It's important for the children to understand about sustainability.We want to learn about indigenous plants and animals, whats a weed, and how to care for the land. The demographics are changing, there are a lot of people coming from the city, a lot of new families. We'd like to help educate new landowners how to look after and sustain the land." Welcome Charlotte! Its exciting seeing new generations taking on Peters slogan – 'Landcare – I Care!'.
PROPERTY PLANNING WORKSHOP
This workshop booked out a month before the RSVP date of 10th March but keep your eyes out for similar ones to be offered in the next year – they are a great resource for new Landowners and Landcare owners. Former attendee Sally White said: "The biggest thing I got out of it was to be responsible as a landowner.We need to be accountable for our land and these courses give us help to achieve that."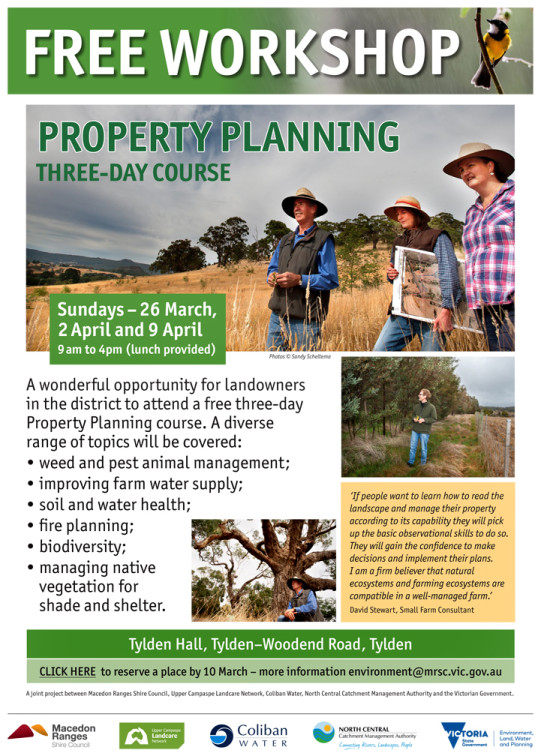 CHILD SAFETY REQUIREMENTS
Many groups will now be aware of the the new legislation regarding Child Safety and that we are obliged to abide by them. Some groups within our network already have done so. For those that havent, it is a simple process.
There are a few simple steps that your groups can take now as a minimum standard
Create a Statement of Commitment to child safety, to be documented in your constitution, minutes, website etc. E.g. "The XXXX Landcare group are committed to providing a child safe environment and being a Child Safe organisation in accordance with the Victorian Child Safe Standards"
A further step might be some supporting principles such as "The XXXX Landcare Group has zero tolerance of child abuse" "The XXXX Landcare Group will ensure all new volunteers are aware of our commitment to child safely when they are welcomed into the group"
An Action Statement will assist your members to know exactly what to do should any issue arise and for reporting any suspected abuse e.g. "The XXXX Landcare Group will comply with Victorian Law by contacting the police in any instance that abuse toward Children is suspected or witnessed"
If you produce OHS/ Hazard Risk Assessments or Plans before your events, consider adding a line in specifically for the Safety of Children e.g. "This event is open to the general public, therefore parents are advised that their children remain their responsibility at all times"
If working with schools, think about making the Standards part of the conversation with the teacher in charge when you're planning the logistics of the activity e.g. "What do we both need to do to ensure this activity/event/session provides a child safe environment?"
FOR MORE INFO ON HOW TO ABIDE BY THE REGULATIONS GO TO  Child Safety  AND LOOK FOR REPORT TITLED CHILD SAFETY.
NORTH CENTRAL CHAT
The first 2017 edition of the North Central Chat is out; featuring upcoming events, Landcare related news for community groups and information on several Shire grant rounds that are about to open, go to  Chat  (9 Mb download)
PHOTOVOICE FOR WEEDS AND RABBITS
Join in a Victoria-wide photovoice initiative to guide future community action and investment on widely established invasive species. The Victorian Government, in collaboration with community pest management groups for blackberry, gorse, serrated tussock and rabbits, is undertaking a Systems Mapping Study. The study uses photovoice to feature your stories and experiences. Images can help us to better understand each other's stories, offering a fresh look at the longstanding community issue. Stories may be up to 300 words, and will be accepted until 31 March 2017.
Create your image+story in response to the following questions.
What motivates your efforts to control blackberry, gorse, serrated tussock or rabbits?
What hinders your efforts to control blackberry, gorse, serrated tussock or rabbits and how do you overcome the hindrance?
What are your ideas for community action to control blackberry, gorse, serrated tussock or rabbits?
For further information  and to submit your image+story visit weedsandrabbits.com/about.
REVIEW OF THE FLORA AND FAUNA GUARANTEE ACT
Victorians are encouraged to have their say on the review the Flora and Fauna Guarantee Act 1988 to ensure it better protects our biodiversity.
The Act has been in place for nearly thirty years, but this has coincided with a decline in Victoria's biodiversity.
A consultation paper has been prepared to seek the community views on the Act and how it could be improved by incorporating improvements in our knowledge of native flora and fauna.
Community feedback is vital to ensuring that changes to the Act reflect how we can work together to protect Victoria's unique plants and animals.
The consultation paper and information on making a submission is available at:
www.engage.vic.gov.au/review-flora-and-fauna-guarantee-act-1988.
 Consultation closes on 13 March 2017
The review aligns with the other major biodiversity initiatives including the draft biodiversity plan Protecting Victoria's Environment – Biodiversity 2036, and the review of the native vegetation clearing regulations.
CLIMATE READY REVEGETATION GUIDE
The new Climate-ready revegetation: A guide for natural resource managers is available to assist natural resource managers work with the uncertainties associated with climate change when planning revegetation activities. CLICK HERE to go to the website, where you can also download a PDF version of the guide.
SEEKING GROWLERS!
The Growling Grass Frog  is   threatened in Victoria. Dan Gilmore from Biosis is seeking Growling Grass Frog habitat sites (*not already under a covenant) to offset a project in Melbourne. If your group or anyone you know has a Growling Grass Frog site (including creek lines, farm damns, drainage lines etc) on their property which they may be willing to covenant with compensation through Biosis's process, please contact Dan on 0428 108 379 or at dgilmore@biosis.com.au.
CLICK HERE for more information on Growling Grass Frogs, or CLICK HERE to visit the Biosis website.
NEW GUIDE FROM CSIRO FOR MONITORING YOUR RESTORATION EFFORTS
Thank you to Connecting Country for sharing the information below.
In the spirit of sharing useful information for people involved and interested in conservation and land management, we've recently been made aware that the CSIRO have released their fantastic guide, 'Checking for Change: A practical guide to checking whether sites newly managed for conservation are on track to improve'.  CLICK HERE to view this free guide Read more…
TWO APPS TO HELP KEEP YOU SAFE THIS SUMMER
The new VicEmergency app provides access to warnings and incidents for fires, floods, storms, earthquakes and water safety. The VicEmergency app replaces the FireReady app and is now available from the App Store or Google Play.
The Emergency + App is a fantastic app to have on your phone.It works when there is no phone reception, and will connect you directly to police, S.E.S or Fire Services whilst giving your GPS location.Very handy when you are out of range and have been bitten by a snake, as happened recently at a Landcare Planting event. Remember NOT TO MOVE if that happens.
MACEDON RANGES SUSTAINABILITY FESTIVAL 4th March 9am – 3pm
UCLN will be having a stall in conjunction with Woodend and Ashbourne Landcare groups at the Macedon Ranges Sustainability Festival on the 4th March.We would love to see you there!
In previous years the festival has attracted visitors from the Macedon Ranges, Central Victoria and Melbourne, and hosted 60+ exhibitors, speakers and demonstrators. The aim of the festival is to showcase ideas, products and practical solutions that will inspire and inform visitors so they can enjoy living more sustainably. The concept of this year's festival is 'Resilience – Building a Sustainable Community'.
The 2017 MRSLF has confirmed Simon Corbell, the Victorian Government's new Renewable Energy Advocate, as key speaker on the Victorian Renewable Energy Targets (VRET) and its potential impacts on the renewable energy sector in our region.