COBAW TO CAMPASPE CONNECTIONS FIELD DAY.
TREES FOR MUM PLANTINGS BY WOODEND LANDCARE AND CAMPASPE RIVER AND LAND MANAGEMENT GROUP.
MESSAGE FROM THE ENVIRONMENT MINISTER.
NEWHAM LANDCARE PRESENTS A TALK ON GLIDER ECOLOGY BY KYLIE SOANE.
UTILIZE LODDON PRISON LANDMATE CREWS FOR FREE AS PART OF YOUR GRANT APPLICATIONS.
GRANT OPPORTUNITIES, NORTH CENTRAL CHAT.
RABBIT CONTROL VIDEO.
LANDCARE VICTORIA TURNS 30.
PROTECTING VICTORIA'S ENVIRONMENT-BIODIVERSITY 2036.
Welcome to our May edition of the Upper Campaspe Landcare Network ENews. After a long hot dry summer and a very dry autumn of beautiful colors it has finally rained! How lovely to hear the sound of rain on the roof and know that my dam has water running into it and the tanks are filling. I am sure all of you Landcarers out there,especially those about to embark on autumn plantings, will be very pleased with the rain also. Lets hope for more.
COBAW TO CAMPASPE CONNECTIONS FIELD DAY
The Network received a 2015/16 Community Grant called 'UCLN Building Links to the Future:Action Planning Upper Campaspe region Biolink and Buffer Cluster Projects'. Ashbourne, Newham, Woodend and Carlsruhe Landcare groups have been working hard together to organise the Cobaw To Campaspe Connections Field Day. This is a great example of the Network following on with the goals outlining in the Strategic Plan and working together to preserve and protect our landscape. It promises to be a an informative day out, and it's free, with lunch provided. If you are interested make sure you RSVP to landcaregrp.carlsruhe@gmail.com by the 18th May.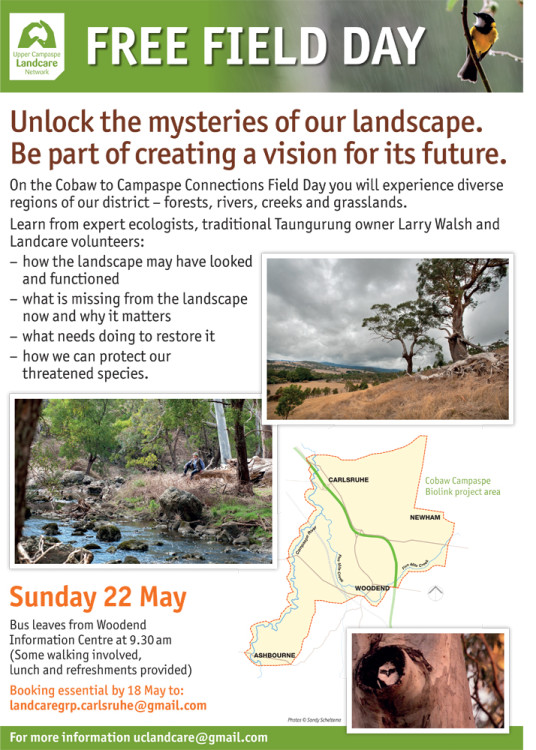 Taungurung elder Uncle Larry Walsh, a wonderful storyteller, will be present to tell people the Taungurung stories within the landscape. Also present will be highly respected grassland and wetland ecologists Paul Foreman and Damian Cook.
If you would like to read the story that appeared on the front page of the Midland Express this week about the day please go to  http://www.elliottmidnews.com.au/story/3896594/explore-the-landscape/
TREES FOR MUM PLANTING DAYS BY WOODEND LANDCARE AND THE CAMPASPE RIVER AND LAND MANAGEMENT GROUP.
Two groups within our Network, Woodend Landcare and the Campaspe River and Land Management Group, held successful planting days on Mother's Day as part of the Trees For Mum project. The President of Woodend Landcare Krista Patterson-Majoor said -"Trees For Mum is a great opportunity to celebrate and contribute to the important parts of life -family,community and the planet."
The Campaspe River and Land Management group planted out the rare and endangered Hairy Anchor Plant. President Peter Harding said "We propagate this special rare plant in our nursery near the river. We see this as a vital part of our overall program to help restore the river environs to as close to pre-settlement as possible."
http://www.elliottmidnews.com.au/story/3885704/plant-a-tree-for-mum/
MESSAGE FROM THE ENVIRONMENT MINISTER
The Environment Minister Lisa Neville recently conducted a review of  the Victorian Government support of Landcare. The Minister  said "The contribution Landcare makes towards protecting and improving Victoria's environment, along with the improved productivity of farms and many social benefits is well recognised in Australia and around the world. Your continued involvement in this work is highly valued and appreciated".  If you would like to read more see below –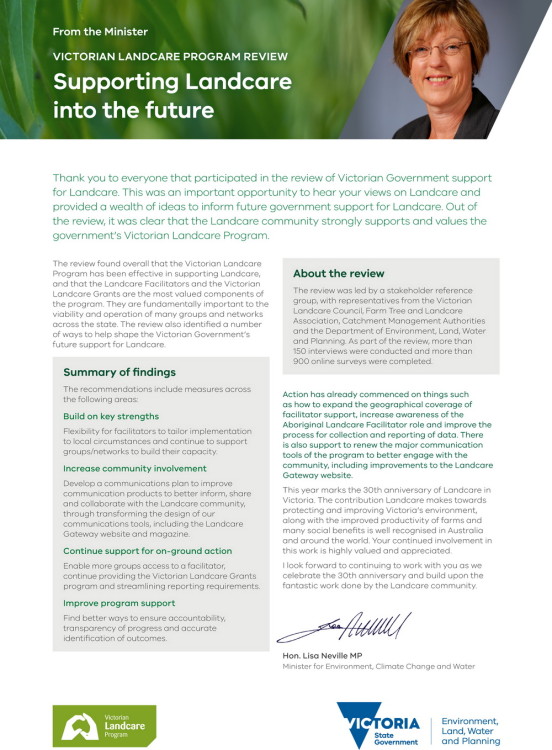 NEWHAM LANDCARE PRESENTS A TALK ON GLIDER ECOLOGY
Newham Landcare is presenting a talk on glider ecology by Kylie Soanes,a very entertaining and knowledgeable speaker.See details below.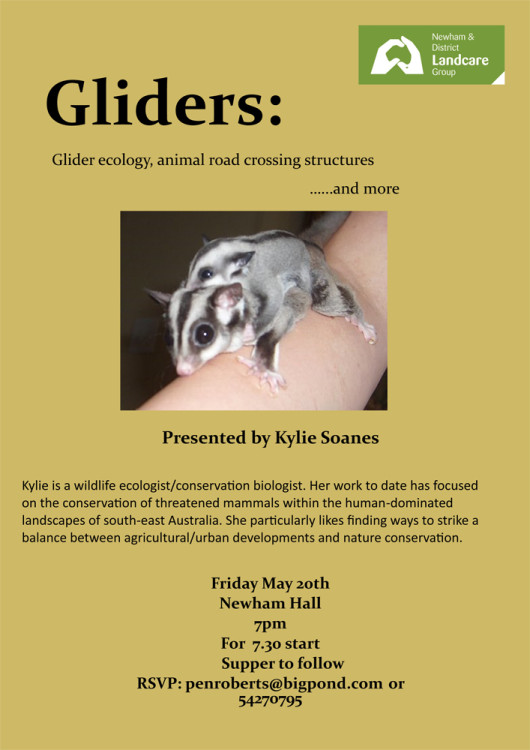 UTILIZE LANDMATE CREWS AS PART OF YOUR GRANT APPLICATIONS.
I advised groups in the last ENews of the availability of Loddon Prison Landmate crews for $400/day. They are efficient reliable workers and the groups that have utilized them within our Network have given good feedback. The good news is they can now work on Landcare projects for no cost. If interested please read  information below from a DEWLP Project Officer who is involved in the Landmate/DEWLP/Landcare partnership.If you would like to see your grants go further, for the same cost, read on!
How does a proponent include a labour component if the funding program only allows labour as  in-kind contribution?
Landcare groups and community environment groups with projects funded by grant programs that don't fund labour or contractors can use Landmate crews as they are 'no cost' to DELWP funded projects.
Using Landmate crews will enable your group to extend the reach (activities you can deliver) of your project. How to include Landmate crews in projects will be written into all future grant guidelines.
To use Landmate crews you will need to:
1.  Discuss with Corrections Victoria about how you wish to use the crews;
2.  In your current project, contact Corrections Victoria Landmate contact to discuss how you wish to use the crew (type of work) and to what extent (how many days). If you are seeking the no cost option (subsidised through DELWP grant programs) you will need to supply your grant contract details to them in your application form (grant source, grant name, contract number, name of project, name of organisation)
3.  If a new project, include in your application to DELWP (or CMA) funding body about how you wish to use Landmate (type of work and how many days);
4.  Continue to your in-kind contributions to projects and let Landmate take your project further that is to deliver more activities or across a greater area.
5. Report back on the use of Landmate in your project reports.
If any groups are keen to pursue this further and need to contact Corrections Victoria Landmate please get in touch with me on uclandcare@gmail.com. Please think about this opportunity for free labour when you write your next grant application!
LANDCARE AUSTRALIA SPECIAL PROJECTS GRANTS 2016
Hurry -closes May 20th!
Landcare Australia is offering grants to Landcare and farming groups to undertake projects that protect environmental assets, address priority issues and improve the health of the environment.
Groups are invited to apply for a grant of up to $15,000 (ex. GST) to support projects that focus on one or more of the following areas:
Biodiversity and threatened species; and
Sustainable Agriculture.
For more information, login (or sign up if you're not already a member) to theLandcare Australia Communities Portal and click on the 'Grants' tab.
Applications open on Monday 18 April and close on Friday 20 May (5.00pm EST).
NORMAN WETTENHALL SMALL ENVIRONMENTAL GRANT SCHEME
The Small Environmental Grant Scheme provides support for groups or individuals undertaking biodiversity conservation projects in Australia. Projects of up to $10,000 can be about one or more of the following: monitoring, recording and sharing data, delivering community education, providing community capacity building (training), research and science, or landscape restoration and education (Victoria only).
For more information or to apply, visit: http://nwf.org.au/grants/small-environmental-grants/
NORTH CENTRAL CHAT
The May 2016 edition of the North Central CMA publication 'chat' is now available (click here – 4.8 MB), and contains a range of stories about Landcare and Waterwatch from across the region.
ARE RABBITS A PROBLEM ON YOUR PROPERTY?WATCH THIS VIDEO
If you would like a cheap practical solution to rabbit control watch this very entertaining video! A lot of landholders have been commenting recently on the increases in numbers of Rabbits around their properties, and asking how to control them. Many of the techniques available need specialist contractors and equipment, but you can get started by yourself using Pindone oats with a bait station.
Connecting Country has kindly offered to share this Instructional Video with UCLN – #1: How to create and set up a Pindone Bait Station.
The Make a Rabbit Bait Station' video is also available to view from Connecting Country on Vimeo.
Click here for more information available about the control of rabbits and other pests.
LANDCARE TURNS 30 -SHARE YOUR PHOTOS
Later this year, Landcare in Victoria will celebrate a major milestone – its 30th birthday! Landcare Victoria is asking Landcarers young and old to share their stories through photographs and videos.
To mark this special occasion they want to showcase the array of wonderful Landcare projects, events, achievements and the changes that have taken place over the last three decades. They are  looking for photos showing the progress of projects over time, milestones for your group/network, people participating in events, and more generally, what Landcare means to you.
We've made it easy for you to upload your photos, videos and consent forms via the following link 30 Years of Landcare Photo Upload
PROTECTING VICTORIA'S ENVIRONMENT-BIODIVERSITY 2036
Some of you will have already made a submission to 'Protecting Victoria's Environment – Biodiversity 2036'.  But for those of you yet to do so, the deadline is this Sunday.  Numbers of submissions is one way the Minister, and the Cabinet, know how much interest there is in this issue.  This is one of the ways the urgent need for more funding and support will be recognised and hopefully delivered.
Through the on-line portal at http://haveyoursay.delwp.vic.gov.au/biodiversity-plan, you can work through the online consultation questions.  If you haven't the time please at least send in a written submission from you and/or your organisation – go to "Make a Submission" then "upload a document".  It won't take long and is very important.