"WE INHERITED A BEAUTIFUL PLANET FROM OUR ANCESTORS, NOW IT IS TIME TO LEAVE IT IN THE BEST SHAPE POSSIBLE FOR THE GENERATION TO COME."
Utsah Shrestha
Welcome to the Autumn edition of of the UCLN Enews. I hope you enjoy reading about the latest wonderful events and resources on offer, and are inspired by the  efforts of our Landcarer's in the district.
PLATYPUS PROJECT CONTINUES
PROTECTING PRECIOUS SPECIES
SPOTLIGHT ON SPECIES SUCCESS
REMOTE CAMERA TRAINING
PIPERS CREEK LANDCARE CHOOK WORKSHOP
UCLN NOW ON INSTAGRAM
SOIL MANAGEMENT WORKSHOP
EVENTS, RESOURCES AND GRANTS
PLATYPUS PROJECT CONTINUES
Our first Citizen Scientist day was conducted recently as part of the UCLN Platypus Project.It was fantastic to see community groups, Landcare, Government Agencies and local landowners come together for the day as Citizen Scientists to help collect platypus DNA for ecologist Josh Griffiths from EnviroDNA. They were targeting critical refuge areas during the dry summer months along the Campaspe and Coliban Rivers.
You can read more about the day here : /working-together-to-protect-waterways/ 
Four schools have also been involved in the project testing the Campaspe River in the north at Redesdale, the south at Ashbourne, on the Coliban at Taradale and in the middle of our project area at Kyneton. Over 300 enthusiastic students have taken on the role of platypus protectors and learnt about waterway health.
Read more about the schools involvement in the project here: https://www.midlandexpress.com.au/platypus-protectors/
You can see footage from  WIN News 9 on the project by going to our Facebook page www.facebook.com/UpperCampaspeLandcareNetwork/
In the UCLN project area there are currently only 12 historical records of platypus highlighting how little we know about platypus in the area. The ongoing work being undertaken by this project will help address this lack of knowledge. Platypus ecologist Josh Griffiths said "This project will enable us to map platypus occurrence throughout the region to target conservation efforts such as revegetation or improved flows. We are already seeing widespread declines in platypus populations and climate change will make things worse with less rainfall and longer, more frequent droughts. It's critical that we understand where they are and how we can best improve conditions to allow them to thrive."
We will be conducting another Citizen Science day to collect samples from 50 sites along the rivers in the breeding season in spring.
PROTECTING PRECIOUS SPECIES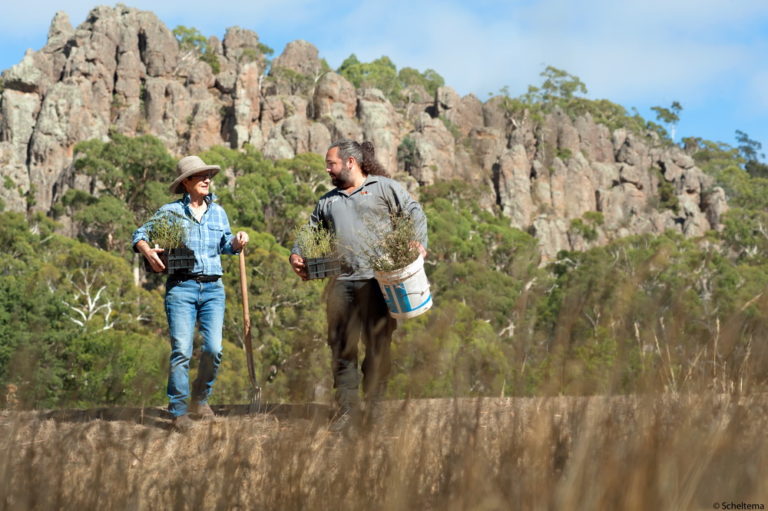 The unassuming little Basalt Peppercress plant, a nationally endangered species, is being given a new chance of life at the iconic Hanging Rock Reserve thanks to Newham and District Landcare Group.
"With this biolink our long-term aim is to provide a habitat link between Cobaw State Forest and Macedon Regional Park. We are building on many years of previous past works, and it is part of a broader biolink plan with Upper Campaspe Landcare Network, Central Victorian Biolinks and the Macedon Ranges Shire Council. Human impacts over the last 150 years have resulted in a loss of biodiversity and the introduction of these endangered species back into private and public land, such as here at the Rock, is one more small step towards restoring biodiversity." said Newham and District Landcare member Penny Roberts, seen here with Hanging Rock Environmental Officer Daniel Young
As a result of funding from the State Government, Newham and District Landcare group is propagating and planting the nationally endangered Basalt Peppercress and the Matted Flax Lily. The two species are just some of over 7000 plants that are being grown and planted by volunteers as part of the Cobaw Biolink project on 8 private properties as well as public land.
Read more about the project here:  protecting-precious-species/
SPOTLIGHT ON SPECIES SUCCESS
Spotlight on Species is a joint project between UCLN and the Macedon Shire Council Environmental Officer to conduct Citizen Science surveys looking for three threatened species in the area and to enter resultant data into the Victorian Biodiversity Atlas.The two year  project is finishing in June, so if you would like a chance to see a Greater Glider or Powerful Owl click on spotlight-on-species/ and scroll through the calender to pick a date that suits.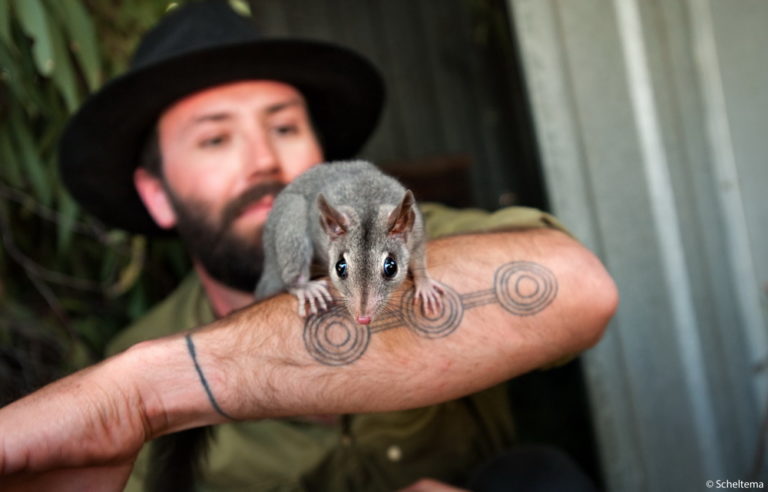 Thanks to the wonderful Brad Blake, the threatened species officer employed for the project, we have some great results:
26 phascogales,
47 Greater gliders,
14 Powerful Owls,
71 Spotlights completed,
27 properties installed with remote cameras with more than 12,000 camera trap hours,
542 observations added to Victorian Biodiversity Atlas from Spotlights,
428 observations added to VBA from camera trapping surveys (total of 984 records added to VBA's as result of SOS project to date).
REMOTE CAMERA TRAINING
A component of the Spotlight on Species grant is teaching interested groups how to use the remote sensing cameras.They are fantastic for discovering what lives in your patch and can help motivate members to look after it.The UCLN has ten camera's and interested groups can contact Brad Blake on 0421823998 or brad@proconpest.com for more details on how to become involved.
PIPERS CREEK LANDCARE CHOOK WORKSHOP
Would you like to enjoy fresh eggs, warm from the chook yard, and have lots of great fertilizer for your garden but dont know where to start when it comes to raising chickens? This workshop being run by Pipers Creek Landcare will give you all the answers.More info about the day here: chooks-in-my-back-yard/
CHOOKS ~ IN MY BACK YARD
Sunday 24 March 11.30 am 2019 
Kyneton Showgrounds
Sausage sizzle at noon
More info piperscreeklandcare@gmail.com or 0448 401 372 rsvp by 20th March
UCLN NOW ON INSTAGRAM
Thanks to our new UCLN Committee member Nat Cursio we now have our very own Instagram account.You can find it here : https://www.instagram.com/upper_campaspe_landcare/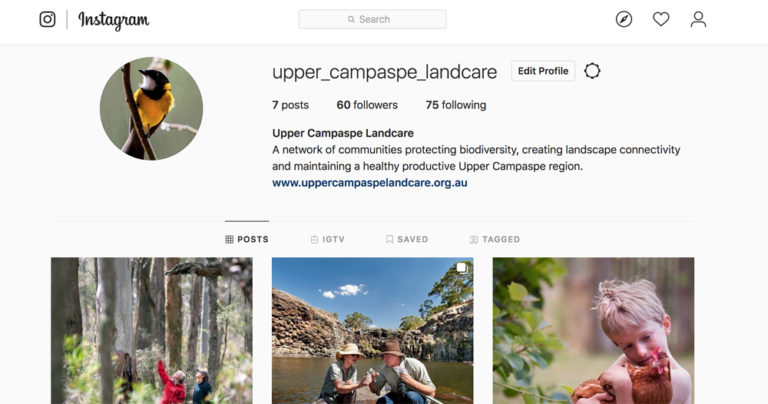 Nat is a member of Trentham and District Landcare and the Friends of Trentham Creeks and Reserves and is doing a Bachelor of Environmental and Conservation Science at Federation University in Mt. Helen.
We also welcome new committee members from Glenlyon Upper Loddon Landcare group Joy Durston and Margret Lockwood, who bring with them a wealth of knowledge in working with community and Landcare.
SOIL MANAGEMENT WORKSHOP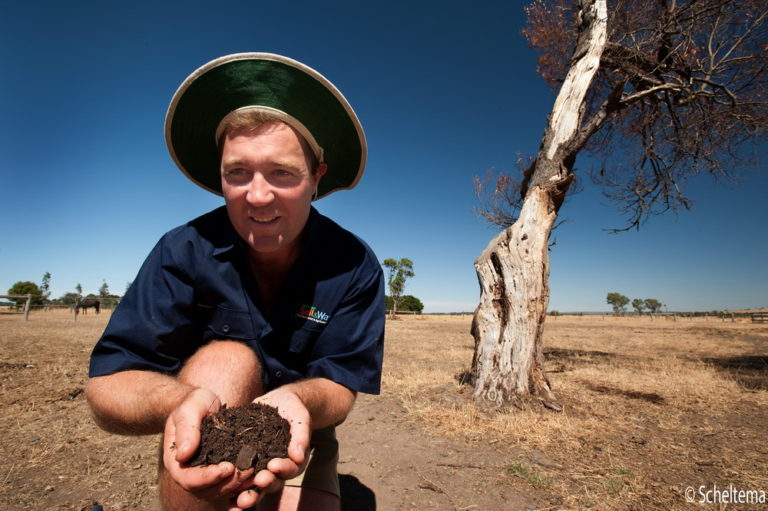 Our popular Soil Management workshop is booked out, with many on the waiting list.For those of you interested in reading about it so you can get in quick next time if interested, click here :
soil-scientists-share-knowledge/
EVENTS
AUSTRALIA'S GREAT WILDLIFE MIGRATIONS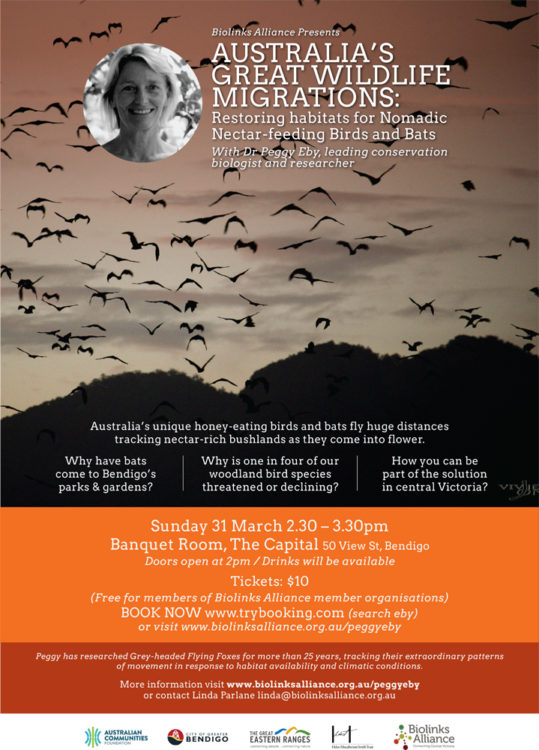 YOU, ME AND BIODIVERSITY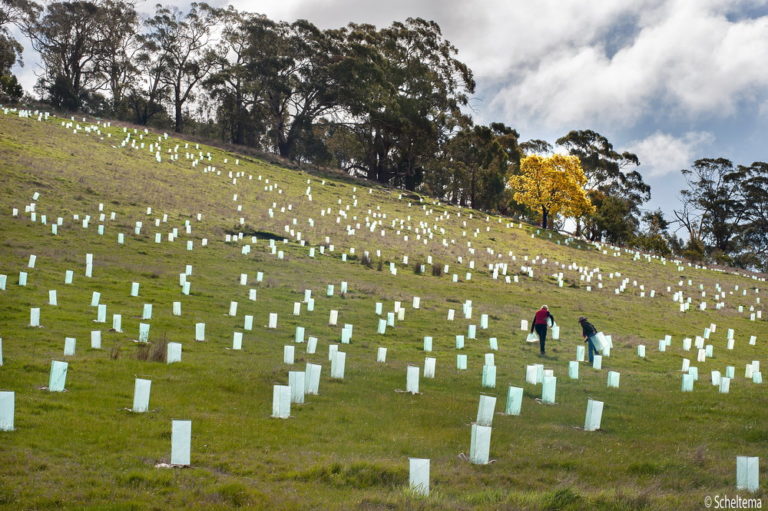 WOMBAT FOREST CARE is running a workshop on re vegetation practices presented by David Millsom 
Saturday 27 April, 1.30 – 3 pm Trentham Neighbourhood Centre
David is widely regarded as one of the most experienced and successful revegetation practitioners in Australia .He is now retired and is keen to pass his knowledge to community members who want to improve their outcomes from revegetation.
The talk will cover :-The reasons ("Drivers") for and development of large scale revegetation techniques. Site preparation for transplanted nursery grown seedlings and Direct Seeding.
Site selection.
Species selection – what plant and why.
Provenance, origin of term and what genetics are telling us.
Seed treatments. Overview of how to maximise germination. Use of smoke, heat, cold and other methods.
Research, development and application of live bacteria inoculant for native legumes.
How to maximise chance of success in a drying and hotter climate.
More info and bookings at :info@wombatforestcare.org.au
THE REMARKABLE WORLD OF WILD ORCHIDS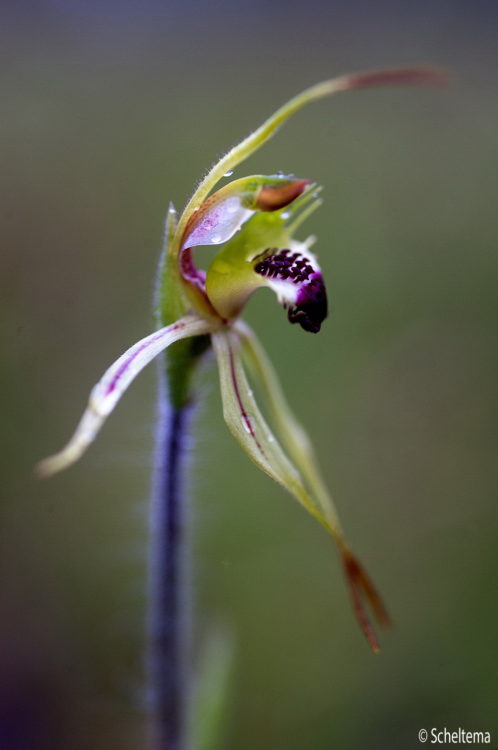 Newstead Landcare are delighted to present a talk by Emily Noble on 'The remarkable world of wild orchids' at 8.00pm on Thursday 21st March at Newstead Community Centre.
Secretary of the Field Naturalists' Club of Ballarat, Business Manager of the Ballarat Environment Network, Coordinator of the 540ha Clarkesdale Bird Sanctuary in Linton for Birdlife Australia, and proud owner of a bush block south-west of Ballarat that is home to at least fifty different wild orchids, Emily has ample opportunity to pursue her interest in orchids and their interactions with the co-habitants of their environment.
Come along to learn more about these remarkable plants and their fascinating relationships with their world.
All are welcome to Emily's presentation and supper afterwards. There will be no business meeting to sit through. Gold coin donation.
BIODIVERSITY ACROSS THE BORDERS CONFERENCE
What: This one-day Climate Change and Future Landscapes, conference aims to communicate new ecological research to natural resource managers, the research community and those with an interest in better environmental management.
When: Friday 14 June
Where: Mt. Helen Campus of Federation University, Ballarat.More info: biodiversity-across-the-borders
Register: register
Contact: Assoc. Prof. Singarayer Florentine, s.florentine@federation.edu.au
NEXT SPOTLIGHT WITH UCLN THREATENED SPECIES OFFICER
The next UCLN spotlighting event is on Saturday the 27th April at  Kangaroo Creek,Spring Hill. Dont miss out! Book at link below.
spotlight-survey-tickets-55551145973
HEALTHY COLIBAN CATCHMENT CITIZEN SCIENTIST OPPORTUNITY
Do you live near the Coliban River?Would you like to be involved in a NCCMA Citizen Science project to help look after it?If so have a look at the attached flyer to find out how.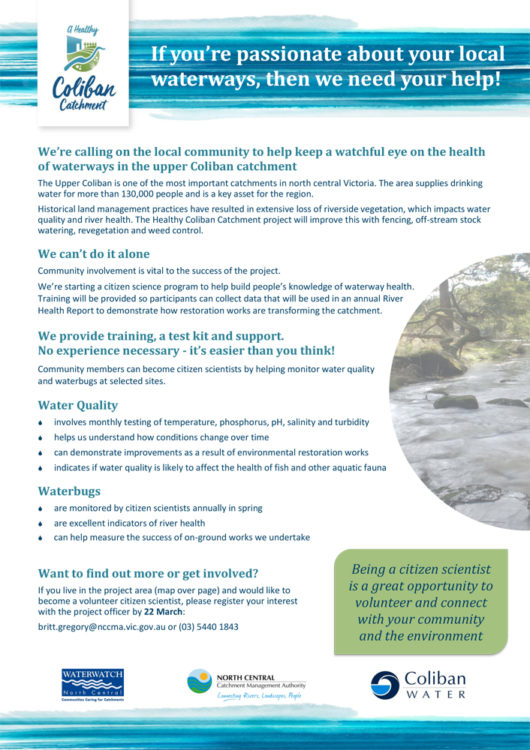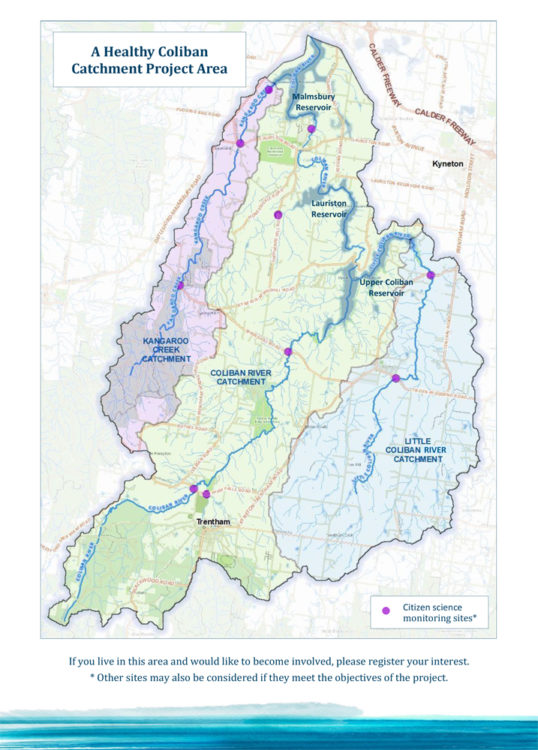 CONNECTING COUNTRY INTERACTIVE WORKSHOP
"Online tools for accessing and sharing Biodiversity Information"
The interactive workshop will cover two important databases in detail:
– State Wide Integrated Flora and Fauna Teams (SWIFFT): a knowledge sharing network for biodiversity conservation and threatened species
– Visualising Victoria's Biodiversity (VVB) – a web portal containing spatial information on environmental values, conservation a…
This is a free interactive event that will explore ways to improve knowledge sharing and access to biodiversity data sets.
WHEN:22 March 2019 9:30 AM to 2.30pm
WHERE:Buda Historic Home & Garden 42 Hunter Street, Castlemaine
Booking: https://www.trybooking.com/BBHVW
YOUTH ENGAGEMENT TRAINING WORKSHOP
A training workshop to help get more young people involved in landscape management will be held on Monday 6 May (9am to 4.30pm) at the Melbourne Museum in Carlton, Victoria. The workshop is free and is  hosted by Ag Vic (as part of the Weeds and Rabbits Project) to support youth participation in invasive species management. Members of Friends groups and others involved in natural resources management are welcome to attend.
You can find more information on the workshop here and register your interest in attending here. If you're unable to access the online form, or would prefer to submit via hard copy or email, please contact Lauren Hull at lauren.hull@ecodev.vic.gov.au. There is also a survey you can complete to help plan the workshop here.
RESOURCES
Landcare notes: Managing a successful group:
– https://www.landcarevic.org.au/resources/landcare-notes-managing-a-successful-group/
Resources for Landcare and Community Groups' (NCCMA website.)  – https://www.necma.vic.gov.au/Solutions/Landcare-Community-Groups/Group-Resources
MARCH NORTH CENTRAL CHAT
March 2019 edition of the North Central Chat featuring some great upcoming events and funding opportunities.
RABBIT CONTROL RESOURCES
Struggling to control rabbits on your property? Victorian Rabbit Action Network has some Rabbit Management Resources for landholders that may help.Also technical guides and information:
PestSmart – European rabbit: Technical and background information on rabbit control.
Peri-urban rabbit control: Advice on integrated rabbit control methods for urban and semi-urban areas.
Rural rabbit control: Advice on integrated rabbit control methods for rural and natural landscapes.
Rabbit Scan: To record and view rabbit activity in your local area. #VRAN
For details click on the link below:
https://rabbitaction.com/further-resources/
LANDCARE AUSTRALIA'S LANDLINK
Click on link below to read the latest Landlink
https://us1.campaign-archive.com/…
CLIMATE CHANGE -FUTURE PROOF YOUR LANDSCAPE
Connecting Country has some great resources on biodiversity and climate change  relevant to
environments across Victoria.
Future Proof Your Landscape Resources:
education-resources/take-action/
VICTORIAN LANDCARE MAGAZINE
– Stories Sought for Winter 2019 Issue –
Landcare and Health Feature
Copy Deadline: Thursday 21 March
What: The winter 2019 issue of the Victorian Landcare magazine will feature stories on Landcare and
health. Stories are sought on all aspects of health including group health, physical health, mental health, and of course the heath of the environment we are working to protect, enhance and restore.
Story ideas: The magazine fills up very quickly so please contact the editor as early as possible (i.e. well before
the contribution deadline) to discuss your story ideas.
Send your stories to: Carrie Tiffany, Editor, Victorian Landcare magazine via
email: editorviclandcare@gmail.com
WHY YOUR RE VEGETATION WORK MATTERS
An interesting read to inspire you to keep planting!
Small isolated patches of vegetation are more important than you think –
As habitat fragmentation continues to impact landscapes globally, conservation decisions often focus around maintaining large patches of native vegetation. Based on island biogeography theory, bigger patches should be more important, with higher species richness and http://conservationcorridor.org/…/small-isolated-patches-a…/
ORANGE HAWK WEED FOUND IN REGION
Keep an eye out for orange hawkweed. This state-prohibited weed, which is notable for its bright orange flower, has been spotted in the Daylesford, Trentham and Blackwood regions.
If you suspect orange hawkweed do not attempt to remove it. Agriculture Victoria will treat, remove and dispose of the weed at no cost to the landholder.
Report suspected plants to Agriculture Victoria on 136 186 or email weedspotters@ecodev.vic.gov.au
Read more here: https://buff.ly/2twfGjW
GRANTS
 THE COMMUNITIES ENVIRONMENT PROGRAM
A new small grants program –The Communities Environment Program will provide up to $150,000 to each Federal electorate in 2019-20 for community-led projects that deliver real environmental benefits. Please contact your local member for more information. http://ow.ly/3aFm50mwutP
COMMUNITY CLIMATE CHANGE ADAPTATION GRANTS
The Department of Environment, Land, Water and Planning Community Climate Change Adaptation (3CA) Grants program closes March 31st
The 3CA Grants program provides funding for local communities to adapt to climate change impacts in their region of Victoria. Grants between $25,000 and $75,000 are available. More info, click on link: community-climate-ch…
Frequently Asked Questions below:
NEED HELP WITH A VICTORIAN LANDCARE GRANT APPLICATION?
Tess Grieves from NCCMA can help your groups with workshops to support grant applications in May .
The workshops can be tailored but to be practical she will focus on;
Short presentation of tips related to applying for the CMA's Victorian Landcare Grants program
Discussion time to answer FAQ's
Work through iMap queries
During workshops, it would be out of scope for her to;
Read / assess a draft application
Assist people to complete an application during the workshop
Assist with grants related to other funding streams
So… BOOK HER IN! and share this opportunity with your committee & your groups!    Tess is always keen to get out there and support you.  (03) 5440 1890   0438 357 874