STRATEGIC PLAN LAUNCHED ON THE BANKS OF THE CAMPASPE

SUCCESSFUL MOTHERS DAY PLANTING BY CAMPASPE  RIVER AND LAND MANAGEMENT GROUP

NEST BOXES INSTALLED AT BALD HILL

CARLSRUHE BEGINS BIOLINK

LODDEN PRISON LANDMATE PROJECT TO WORK WITH LANDCARE

BLACK HILL ARTS PROJECT

UCLN MEETS WITH MINISTER FOR ENVIRONMENT, LAND AND WATER

FAREWELL TO JOAN KIRNER

2015 LANDCARE AWARDS

MT ALEXANDER LANDCARE FORUM 19TH JUNE

PASTURE MANAGEMENT AND CROPPING FIELD DAY 16TH JUNE

GEOLOGY OF HANGING ROCK-FREE EVENT  SUNDAY 14TH JUNE
When the scarlet robin starts appearing at my place its a  sign of  colder weather coming. Lots of you have been braving the weather holding working bees and getting trees into the ground. Others have been installing nest boxes and conducting educational activities. The Network has been very busy with the Launch of the Strategic Plan and meetings with the Environment Minister, local government and Loddon Prison
Check our website if you would like to see recent media about Network activities  https://www.uppercampaspelandcare.org.au/media/.
STRATEGIC PLAN LAUNCHED ON BANKS OF THE CAMPASPE
Over 50 people braved wet and blustery conditions to pick their way through paddocks in Langley down to the Campaspe River to Launch the UCLN Strategic Plan. A barista was on hand to warm people up with lovely coffee and tea and in usual Landcare style there was a terrific spread of goodies to eat. People mingled and warmed themselves by the fires as they waited for the official unveiling, an elaborate pulley system which lifted the red velvet cloth to reveal the Plan!
The Mayors from  Mt Alexander and and Macedon Ranges Shire, Cr Christine Henderson and Cr Jennifer Anderson, accompanied by Cr Sebastian Klein from Hepburn Shire Council cut the red ribbon to unveil the Plan which was presented on a four hundred year old Redgum tree.
President of Newham Landcare, Peny Roberts, spoke wonderfully about the many social and environmental benefits of Landcare. Her speech was followed by  two students from Newham Primary School  who spoke eloquently. 12 year old Sydney and 11 yr old Tom said, "Without Landcare planting trees and protecting important wildlife and vegetation areas our flora and fauna would decline, quite dramatically due to carelessness and human destruction."
"If we want to see this natural wonderland stay the same in years to come, it is vital that we educate this generation, and future generations about Landcare and how to look after the land, to preserve Australia. If we don't, we will see native species become seriously endangered and possibly extinct."
"Landcare means so much to our school and we don't know where we would be without it."
The Member for Macedon, Mary-Anne Thomas MP was also present, along with representatives from Coliban Water, North Central Catchment Authority, Parks Victoria, students from Langley and Newham Primary Schools and representatives from the sixteen Landcare Groups that comprise the Network.
The Strategic Plan was generously funded by grants from the Norman Wettenhall Foundation and Victorian Landcare.
The Network will now begin outlining how we will move forward towards the goals outlined in the Plan. Congratulations to all those who worked so hard on it!
http://www.elliottmidnews.com.au/story/3078721/braving-the-elements-landcare-heads-to-the-river-to-launch-strategic-plan/
MOTHERS DAY PLANTING ON THE CAMPASPE RIVER AT KYNETON
About 40 people braved rain and cold conditions to honour their mums this Mother's Day by planting a tree for her on the Campaspe River in the Kyneton Botanic Gardens. Free trees were also available  from the Woodend Landcare Group to be planted at home.
Trees for Mum is a National Landcare Event and open to anyone who would like to plant a tree for their mum, or take part in the event with their mother or grandmother, whilst doing something for the Environment.
Trees for Mum was first started in Sydney in 2002 by friends and colleagues, Deena Raphael and Lauren Adlam, as a way of paying tribute to their mums, who they had both lost to cancer.
Since then more than 20,000 trees have been planted at Trees for Mums events across Australia as tributes to mothers who have passed away or to celebrate those who are still alive.
Campaspe River Land Management Group has worked for over twenty years clearing weeds and planting natives along the Campaspe River behind Kyneton, and they hosted the day as part of their "A River Runs Through It" project to remove willows and plant natives along the Campapse River near Kyneton.
"This is a way for all users along the river –cyclists, walkers and residents, to help restore the health of the river environs where it flows through Kyneton" said Don Smith, member of Campaspe River Land Management Group.  "Revegetation works will help ensure good outcomes for our local river and will also complement the North Central Catchment Managements Caring for Campaspe Program." Don added.
"We're excited to be hosting the Trees for Mum event in Kyneton this year" said Jessie Smith of the Campaspe River Working Group.
"We'll be planting along the river walk in Kyneton as part of our on-going work to encourage native wildlife and make the area an enjoyable place to visit" added Mrs Smith.
 http://www.elliottmidnews.com.au/story/3054738/plant-a-tree-for-mum/
NEST BOXES INSTALLED AT BALD HILL
The Friends of Bald Hill had a working bee  to install nest boxes for phascogales and sugar gliders. About twelve people, including William Terry, the Environmental Officer from Macedon Ranges Shire Council, were hard at work installing new homes for the gliders and phascogales.
Both animals usually nest in hollows in trees but due to a shortage of hollow bearing trees, the nest boxes can provide a suitable alternative.
Phascogales are a close relative to the Tasmanian Devil and they are under pressure due to a loss of habitat. They are already extinct in South Australia.
The Brush tailed Phascogale lives an interesting life. Males die during their first year of life after an intense breeding season. Females live another 3 to 4 years and give birth to as many as ten young that they carry around on their backs.
The tiny sugar gliders can glide the length of a football field and have a sweet tooth. They feed on nectar, tree sap, seeds and insects. In winter they can go into a state of torpor, or hibernation, for 13 hrs at a time to conserve energy.
The Friends Of Bald Hill hopes that the installation of nest boxes will increase the number of sugar gliders and phascogales in the Reserve. Cameras attached to long poles will be used to check the nest boxes in the future. More will be installed over the coming months. Go to
http://www.elliottmidnews.com.au/story/3038913/new-homes-for-gliders/
CARLSRUHE BEGINS BIOLINK
The Carlsruhe Landcare group  received a $5000.00 Communities For Nature grant from DELWP (Department of Environment,Land, Water and Planning) to establish a 2 km long biolink between the Cobaw State Forest and the Campapse River on a strip of land adjacent to the township of Carlsruhe.
Member Bill Taylor said "It is really to provide a corridor from the Cobaw State Forest down to the Campaspe River. We're trying to create a wildlife corridor, a refuge for koalas and an escape route for the wildlife in the event of fire. We've planted lots of manna gums already." The group conducted a successful working bee recently to plant many more trees to help establish the biolink.
President of Carlsruhe Landcare Hanne Juul said, "The wildlife corridor will link up with Newham Landcare's biolink project which will eventually connect Hanging Rock and the Cobaws. Our planting is on a strip of government land that will be used to create this biolink."
LODDON PRISON LANDMATE PROJECT
I met with staff from Corrections Victoria and DEWLP to discuss the possibility of Landcare  projects working with the Landmate program,which is run by Corrections Victoria (out of Lodden Prison in our area)
Rural communities across Victoria have benefited from the Landmate program , which has worked successfully for over 20 years. It is a joint program between DELWP  and Corrections Victoria.
Landmate crews consist of 8 to 10 minimum security prisoners working on environmental activities. They are supervised by qualified and experienced prison staff equipped with four wheel drives, chainsaws, fencing equipment, spraying equipment and tools.
They are experienced at fencing, weed removal, planting and vermin control, erosion control amongst other activities and have all necessary certifications.
Apart from the environmental benefits the program makes an important contribution to prisoner rehabilitation, with prisoners developing their life and employment skills and learning to work as a team. The purpose of the program is to provide labour for environmental and land management activities on private and public land, with an emphasis on broader environmental activities.
There is a cost of $400 day of the team, but it is very good value for money as the teams are efficient and very capable.
A team will soon be helping Langley Landcare to replace plantings lost earlier this year in the fires. They will also be helping with planting at the Carlsruhe Biolink and undertaking works at Hanging Rock for Newham Landcare.
If you are interested in being involved in the program please contact me. I will then put you in touch with the relevant person. Aside from the initial consultation with the supervisor, Landcare people do not have to attend the work whilst it is being undertaken, but just be a contact person explaining what needs to be done. A quick google search should convince you of how successful this program has been!
BLACK HILL ARTS PROJECT
An exciting new Arts project will soon to be chosen to celebrate Black Hill Reserve and the community that cares for it. Regional Arts Victoria and the Macedon Ranges Shire Council called for expressions of interest from artists.
The responses have been narrowed down to two after consultation with members of Friends Of Black Hill, Regional Arts Vic and MRSC. One of the final proposals is a photographic light show project and the other a sculpture project. Both would involve working with the Langley School.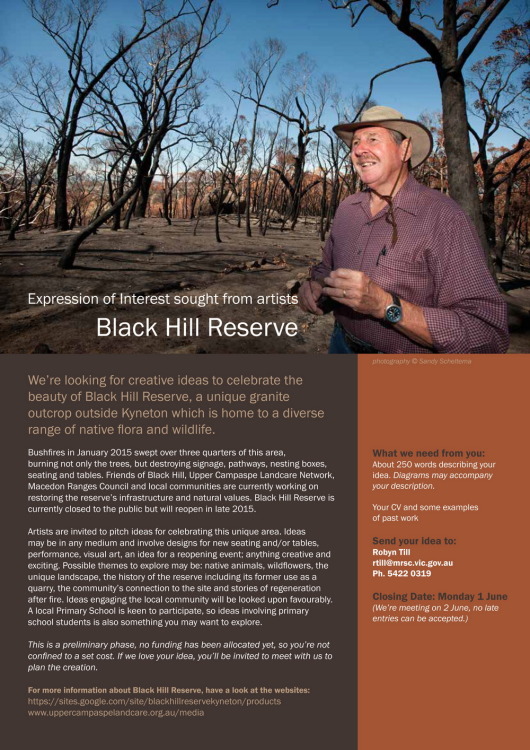 UCLN MEETS WITH THE MINISTER FOR ENVIRONMENT, LAND AND WATER THE HON LISA NEVILLE
Our Network was invited to meet with the Minister when she was in our area last week. We showed her a biolink project being undertaken by Newham Landcare (while three wedgetail eagles flew above) then met with her later in the day in Trentham. Barry Elliot, Alan Denehey, Sophie Bickford, Amanda May and myself spoke to her for half an hour, while in true Trentham style it snowed outside.
We explained to her the work that the individual groups in our Network undertake and gave her a briefing on the contents of the Strategic Plan, which we presented to her during the meeting. We spoke about how Landcare activities in our area are not just about sustainable agriculture, soil health, protection of riparian areas and weed removal, but also about creating wildlife corridors and bioinks and linking people. Sophie Bickford, who is on our committee and also from Central Victorian Biolinks explained how the work we intend to do creating biolinks, will tie in with larger projects within Central Victoria to protect and connect remnant vegetation.
It was a fantastic opportunity to let her know of the important work we are dong and how vital it is to continue funding this work.
For local media on the visit go to http://www.elliottmidnews.com.au/story/3132223/rock-review-to-begin/
FAREWELL TO LANDCARE PIONEER JOAN KIRNER
In 2014 Joan said that "Landcare was built on sustainability. It's now national and international. And it's based on community ownership of community change principle. I'm very proud of Landcare."
The principles of local action, practical solutions, and working together are her legacy and still guide Landcare today.
The article below appeared in a Landlink publication recently and may be of interest to many of you as it explains Joan Kirner's involvement in the foundation of Landcare.
It is with fondness and admiration that we remember Joan Kirner today as an inspirational figure for many, and a true Landcare pioneer.
Joan Kirner will undoubtedly be remembered as Victoria's first female premier, however she will also be remembered in the heart of every Landcarer as an innovative politician, who recognised the value and importance of implementing Landcare as a policy – leading to its adoption as a national initiative years later.
Minister for Conservation, Forests and Lands at the time, Joan Kirner worked together with Heather Mitchell, then president of the Victorian Farmers Federation to spearhead the initiative. Through this partnership, Joan learnt that there was a pressing need to develop a program that would reverse the degradation of farmland, public land and our waterways.
A story recounted in Andrew Campbell's book, "Landcare – Communities Shaping the Land and the Future", outlines how the name Landcare came about.
A group of staff tasked with drafting a proposal for a program based on neighbourhood groups, tossed around some names and proposed to Joan Kirner, the name 'Total Land Care'. The story goes that Joan Kirner retorted that she did not want to be known as "The Minister for TLC", so it became simply 'LandCare.'
With the generous support of community members, farmers and Departmental officers, Heather Mitchell and Joan Kirner were able to launch 'Landcare' in central Victoria in 1985. By the end of 1986 there were about ten LandCare groups in Victoria. By 1989, LandCare was launched as a national program, and today, there are upwards of 5,000 groups across the country.
Joan Kirner continued to support Landcare throughout her lifetime, and just before her death wrote to the editor of the Landcare magazine and said -"As an early participant in the creation of Landcare, I felt that I had to write and tell you how delighted I am with the program, its longevity, results and the new initiative in Indigenous Landcare. My former colleague, the late Heather Mitchell would be delighted too! Please pass on my congratulations to all landcarers."
Below are two articles that have been written about Joan Kirner's involvement with Landcare for those who would like to learn more about her involvement with the Landcare movement.
Victorian Landcare Website –http://www.landcarevic.net.au/news/vale-joan-kirner
2015 State & Territory Landcare Awards
Celebrate a local Landcare project or hero!
Nominations are open in Victoria until June 21st.
Celebrating a silver milestone this year, the awards celebrate the achievements of Landcare across a number of diverse areas, including sustainable farming, Coastcare, Junior Landcare, Indigenous land management, and more.
With nine national categories to choose from, you'll find one to fit any kind of Landcare project or local hero, and all winners at a State and Territory level will proceed as finalists to the 2016 National Landcare Awards.
If you are involved in protecting or improving your local environment, farm, coastline, bushland, wetland, waterway, school, region, catchment or backyard, there is a category in this year's awards to suit you.
To nominate, please go to the online entry portal . You will need to set up an account in the portal, which will allow you to save your entry as you go, and finish it at a later stage. Refer to the 'entry requirements ' and 'entry rules and conditions ' documents for detailed guidelines, terms and conditions relating to all entries.
Entries close in  Victoria on June 21st
Who Can Enter?
Anyone involved in projects that care for our land or water is welcome to apply.  Landcare is a movement of individuals and groups focusing on managing the environment in their local area. Within the Landcare Awards, the term 'Landcare' refers to all groups, individuals, organisations and activities that care for the land.  This includes, but is not limited to: Landcare, Coastcare, Bushcare, Dunecare, Rivercare, 'Friends of' groups, farmers, professional farming systems groups, natural resource management, Junior Landcare (including day care centres, primary and secondary schools, youth groups, scout groups, etc.), Urban Landcare and Indigenous Landcare.
National Categories
There are nine national categories, which are open to each state and territory – aside from ACT, where the Coastcare category isn't available.  Some states and territories also have their own additional categories. Please click on the list below for a summary of each category.  Please see the online entry portal for detailed criteria for each category or download the entry brochure for each state or territory in the coordinator section below.
Victoria
Landcare Network Award – $500
This award will be made to an outstanding Landcare network that is working towards sustainable land use through the development or adoption of sound land management practices on public or private land, and/or is undertaking on-ground work to protect, enhance or restore a significant area on behalf of the community.
Dr. Sidney Plowman Travel and Study Award – $4,000
The Dr. Sidney Plowman Travel and Study Award will be awarded to one employee of the Department of Environment, Land, Water & Planning (DELWP), Department of Economic Development, Jobs Transport and Resources (DEDJTR) or a Victorian Catchment Management Authority.
VFF/FTLA Heather Mitchell Memorial Fellowship – $4,000
The Heather Mitchell Memorial Fellowship is open to community members and Landcare support staff (i.e. Landcare facilitators, coordinators, project officers) of Victorian Landcare (or other community-based NRM) groups or networks. The Fellowship is not open to State Government employees.
Your 2015 State & Territory Landcare Award Coordinators
VICYvonne Ryczkowski
Department of Environment, Land, Water & Planning
Ph: 03 9637 8480
E: cel.hub@delwp.vic.gov.auDownload the VIC Landcare Awards brochure here.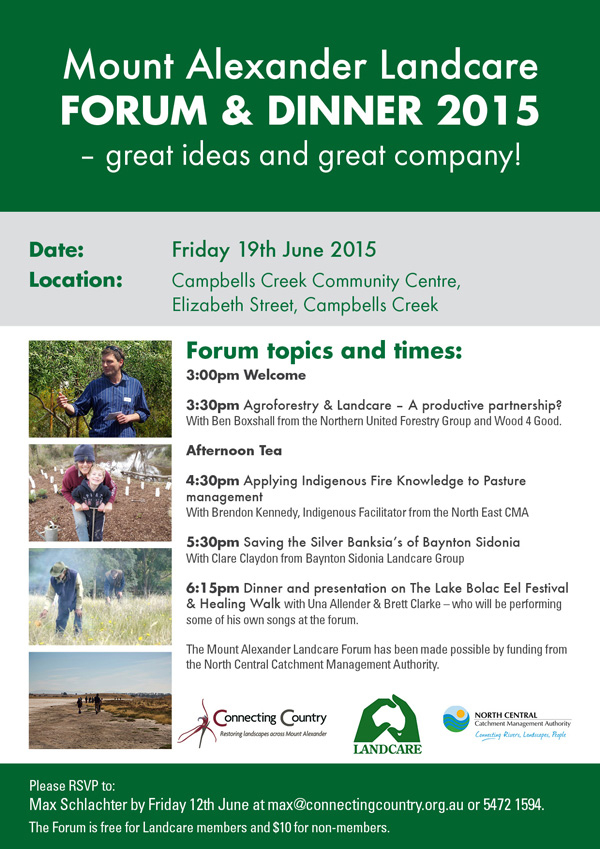 Pasture Management & Multi-species Pasture Cropping Field Day 16 June 2015
Baynton Hall
The North Central Catchment Management Authority is hosting a Pasture Management & Multi-species Pasture Cropping Field Day at the Baynton Hall on Tuesday 16 June from 9.00 am – 4.00 pm.
At the field day you can:
Hear from the pioneer of pasture cropping.
Learn more about grazing management.
Find out how these innovative techniques can increase on-farm productivity.
Visit local farm site.
Participants will hear from Colin Sies, founder of pasture cropping. Multi-species pasture cropping uses a group of plant species that produce good quality forage, have a range of different root systems, includes legume species, flowering plants and species that will add to organic matter on the soil surface and in the soil as root mass.
Multi-species pasture cropping involves sowing several different plant species with similar growing times – instead of sowing one species into dormant grassland – with the aim of producing better quality forage and improving soil health. Colin will be joined by Graeme Hand who is passionate about regenerating perennial pastures and grasslands using planned grazing management.
Graeme has a special interest in working with family farms, to manage holistically, helping to create profitable, regenerative farm businesses which are enjoyable to work in.
To RSVP, or for more information and a flyer, go to the North Central CMA website HERE.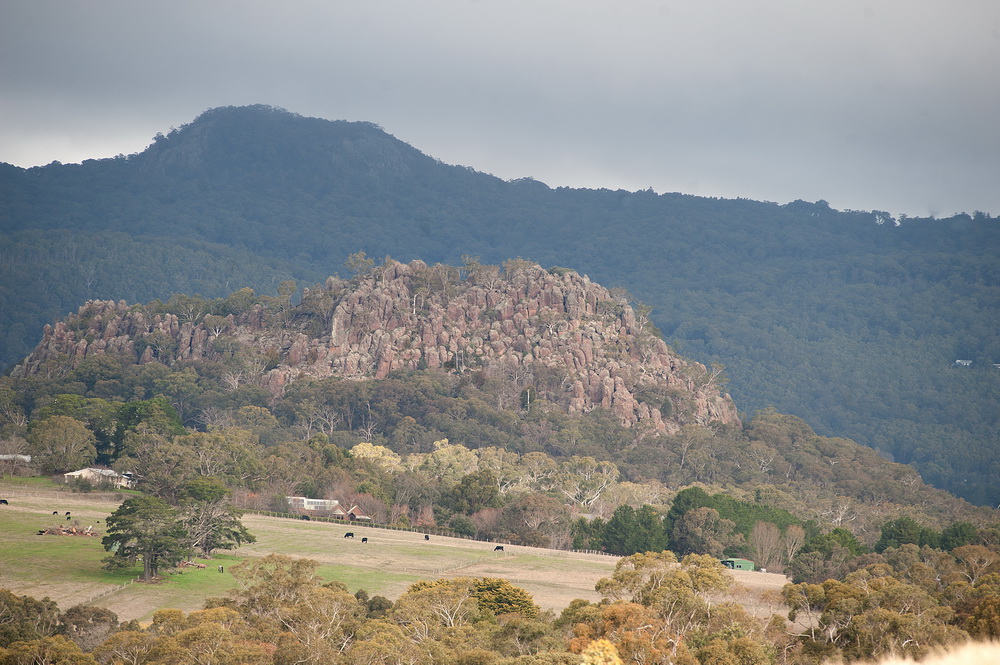 How did Hanging Rock form? How big was it at birth? How long until it erodes to nothing?
For the answers to these questions and more, join the Friends of Hanging Rock for a tour and presentation on the fascinating geology of Hanging Rock, led by Professor David Philips, Head of the School of Earth Sciences at University of Melbourne.
All welcome; no reservations necessary.
11:00 am – 12:30 pm, Sunday 14 June
The Hut, Hanging Rock Reserve (The Hut is 100m north of the Hanging Rock Café)
And finally  The May edition of the North Central chat is now available on the Victorian Landcare Gateway website.