In This Edition:
INDIGENOUS LANDSCAPE WORKSHOP
TRENTHAM LANDCARE BEGINS WILLOW REMOVAL AT HISTORIC ENDERS BRIDGE
NEW HOMES FOR PHASCOGALES
UCLN SUCCESSFUL IN  NETWORK GRANT APPLICATION AND GORSE TASK FORCE GRANT
DROUGHT RELIEF PACKAGES
LANDCARE INFORMATION NOTES AVAILABLE
UCLN AGM
COBAW FIRE INQUIRY
UCLN PART OF WINNING TEAM
NORTH CENTRAL CHAT
30TH ANNIVERSARY OF LANDCARE
NEW SUSTAINABLE AGRICULTURE STRATEGY FOR NORTH CENTRAL NOW OUT
COMMUNITIES FOR NATURE,WORK FOR THE DOLE AND TYLDEN LANDCARE
LANDLINK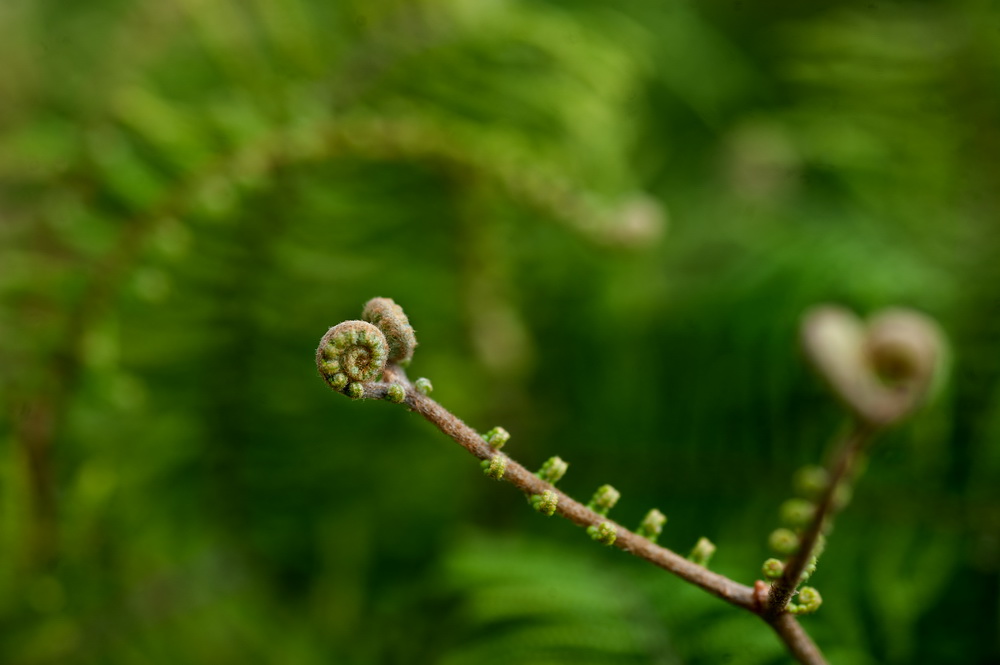 INDIGENOUS LANDSCAPE WORKSHOP AT TRENTHAM FALLS.
Members from Trentham Landcare, the Trentham Historical Society and Wombat Forest Care met recently at Trentham Falls for a workshop to learn about the natural and cultural history of the area.
An elder of the DJa Dja Wurrung people, Ricky Nelson, performed a Welcome to Country dance s on top of the Falls. He explained how in his culture it was good manners to ask for permission to enter other people's land, who would in turn grant permission to pass through and gather food as needed.
Aunty Julie McHale, though not a Dja Dja Wurrung women as she is originally from Tasmania, explained how she had been adopted as an elder in this region. She told Dreamtime stories and spoke of how the indigenous plants were used. Participants were taught how to identify "ring" trees which are "markers" formed from eucalyptus branches trained as saplings to fuse into a ring formation pointing to significant sites such as water, birthing and burial trees. Birthing trees were identified.
The participants learnt that Trentham was on the edge of several indigenous communities and was a popular meeting place.
Geologist Dr Julian Hollis spoke of the complex geological history of the area and explained how the Falls will change in the future.
Following the walk, participants feasted on a lunch utilizing native foods produced by a  catering group – the "Murnong Mammas" who are either aboriginal women or mothers of aboriginal children.
Uncle Rick then gave a presentation about the history of the Dja Dja Wurrung and the process of formally identifying, documenting and preserving indigenous artefacts.
He summed up the day simply with the words, "Respect – Respect for oneself, the environment and others."
TRENTHAM LANDCARE BEGINS WILLOW REMOVAL AT HISTORIC ENDERS BRIDGE
Trentham Landcare was delighted to see willow removal begin along the Coliban River at the historic Enders Bridge near Trentham. The group applied for a Hepburn Community Grant of $7500.00 to begin removal of the willows at Enders Bridge, just upstream of Trentham Falls.
Crack willows are a weed occupying thousands of kilometers of streams across south eastern Australia. They can cause substantial social, economic and environmental impacts. Willows can reduce the quality and flow of water, causing damage to nearby infrastructure, and reducing habitat for native fauna.
Michael Keaney, from Trentham Landcare said "We noticed in the five years we had lived here that the willows had taken over. We wanted to remove them to improve the flow of the water, and expose native trees and grasses. We also wanted to give easier access to the historic Enders Bridge, and the dam and fort beyond it. The nearby Alexanders Paddock, which was cleared as a previous Landcare project, was used as camping and watering area in the days of the horse and cart. Enders Bridge was built in 1901-02 to replace the adjacent toll bridge which was built in 1869."
President of Trentham Landcare Patricia Scheltus said "This will reduce the chance of willows growing downstream close to the Trentham Falls. This was a great exercise in the involvement in a number of different parties. Trentham Landcare initiated the idea and then involved Hepburn Shire, NCCMA, Vic Rds, DELWP, and local contractor Platypus Environmental Services.
"We are hoping to reestablish native fauna like platypus. Our vision is to create a lovely walking track along the Coliban River towards the Trentham Falls. We are talking to DELWP about a possible partnership with the Dja DJa Wurrung people to do ongoing maintenance.
Angela Gladman, project Manager with NCCMA, helped coordinate further willow and blackberry removal downstream of the work done by Trentham Landcare. Angela said "The North Central CMA is building on the great work of Trentham Landcare at Enders Bridge through funding the continuation of weed removal works for a further 1 km along the Coliban River towards Trentham Falls. Funded through the Victorian Governments North Central Priority Waterways Project, the work aims to reduce the downstream spread of invasive willow fragments and other weed seed from impacting upon the Trentham Falls. The Falls are significant for their environmental, geological and social values.
NEW HOME FOR PHASCOGALES AT HANGING ROCK
.
A joint effort by Newham  Landcare,Braemar College Year Nine students,Woodend Men's Shed and Macedon Ranges Shire Council was undertaken recently with the aim of increasing and monitoring numbers of Brush-tailed  Phascogales at the Hanging Rock Reserve.
Phascogales,which are listed as vulnerable,need hollow bearing trees to nest.If there aren't enough hollow bearing trees due to clearing,firewood collection  or logging,the nest boxes can provide an alternative  home.
Phascogales are a close relative to the Tasmanian Devil and they are under pressure due to a loss of habitat. They are already extinct in South Australia.
The Brush tailed Phascogale lives an interesting life. Males die during their first year of life after an intense breeding season. Females live another 3 to 4 years and give birth to as many as ten young that they carry around on their backs.
Year nine Braemar Students are taking part in the project.  Student Bea Bragaglia said "I think people need to become more aware of how many animals are becoming extinct and what we can do to stop that.We need to help keep the natural environment safe for them."
Newham and district Landcare  member Marinda Brooks ,who was helping to install the boxes today said "Its the first time nest boxes for phascogales have been installed at Hanging Rock.It's such a beautiful area and we need to make sure we are doing everything we can to protect the local fauna."
Macedon Ranges Shire Council's Environmental Officer William Terry, who supervised the installation of the nest boxes said "Council is really dedicated to providing opportunities for phascogales to flourish in our reserves.These nest boxes will help us survey and detect phascogales and work to conserve the population."
The President of Newham and District Landcare Penny Roberts said "We are absolutely delighted that the program is going ahead.It's been on our wish list for a long time.We hope that many people will take up the opportunity to come along on annual monitor days."
http://www.elliottmidnews.com.au/story/3481485/phascogales-under-pressure/?cs=1479
UCLN SUCCESSFUL IN NETWORK GRANT APPLICATION
The Upper Campaspe Landcare Network was thrilled to receive news that they were successful in their application for a Landcare Network Grant of $14,500.00 to continue implementing the goals of their Strategic Plan.
Sophie Bickford from the Network said "This project is really exciting as it shows that people are serious about tackling the threats faced by local species and are coming together to take a landscape-wide and informed approach to doing so. Working together in a targeted and strategic way we can achieve so much more."
The money will be spent on achieving greater ecological outcomes in two areas – "the Upper Coliban Corridor" (from Trentham Falls to Malmsbury Reservoir) and the "Cobaw–Eastern Buffer".
Seven Landcare groups (Malmsbury, Tylden, Trentham, Ashbourne, Newham, Woodend and Carlsruhe) within the UCLN will work together to hold a series of workshops that collate expert ecological and community knowledge in each area. Walks held along the rivers will identify and document existing values, threats and conservation opportunities to address problems.
The workshops will be led by ecologists and local indigenous representatives. They will be supported with mapping and other information on conservation and land-use issues.
Kate Daniel, President of Woodend Landcare said, "We're looking forward to working with our Landcare neighbours Newham and Carlsruhe at the eastern edge of the Network. One of our aims is to better identify gaps in biolinks and develop some plans for future on-ground works."
The member for Macedon Mary-Anne Thomas MP said, "The Andrews Government recognises the critical role played by Landcare groups and volunteers in the Upper Campaspe Landcare Network in achieving ongoing environmental gains in the region."
"The $2 million 2015–2016 Victorian Landcare Grants are a key means of support for those groups and individuals, both in the electorate of Macedon and across the state."
"We understand the valuable contribution Landcare groups play to our local communities and we are currently reviewing what else we can do to ensure we support volunteers and groups across Victoria."
GORSE FUNDING
Our Network has also been successful in a $5000.Gorse Task Force Grant to undertake weed removal post fires in the Black Hill area.
NORTH CENTRAL DROUGHT RESPONSE PACKAGE ANNOUNCED – FUNDING FOR STOCK CONTAINMENT AREAS IN OUR REGION
The North Central CMA is rolling out two parts of the State Government's broader drought package — the Drought Employment Program and funding for Stock Containment Areas.
The Drought Employment Program aims to provide drought-affected people the opportunity to earn off-farm income to support their families and rural communities, contribute towards natural resource management outcomes and increase their confidence and skills for the future.
The employment program is restricted to the worst affected parts of the catchment(focusing on the population centres of Donald, Charlton, Wedderburn and St Arnaud), which means that farmers in our region and immediate surrounds are not currently eligible.
The funding for Stock Containment Areas however, is open to farmers across the catchment. The funding is to help manage livestock in a confined area. Eligible farmers will be provided with a grant of up to $2,000 to assist with establishing a stock containment area (SCA) on their properties.
Stock containment funding is also available to help manage livestock in a contained area. Containing stock makes it easier and faster for farmers to hand feed and monitor stock health, helps control erosion by protecting what little grass there is, and allows for pasture regrowth when the drought breaks.
More information can be found at the North Central CMA website: http://www.nccma.vic.gov.au/Land/Drought_Response/index.aspx
An article in the Age re water restrictions in our area — http://www.theage.com.au/victoria/-glch3d.html
LANDCARE INFORMATION NOTES AVAILABLE
Have you ever wondered what the position description of a Secretary or President is? Or how to get your groups message across to a new audience? What about the best way to resolve a conflict or avoid burnt out?
If your group needs some help regarding planning,financial management,project management  and many other things there are a set of notes  available for download on the Victorian Landcare Gateway website at http://www.landcarevic.net.au/resources/for-groups/notes.
The series of 'Landcare Notes' produced by the Victorian Landcare team are very helpful. Some of them are particularly suited to helping new committee members find their feet, and some of them might offer new ideas on long-term issues.
The notes cover the topics of:
Group Formation and Function
Planning
Funding
Financial Management
Project Management
Communications and Public Relations
Governance
Human Resources
Volunteering
Employment
INVASIVE PLANT AND ANIMAL STORIES WANTED.
Would you like to tell the story of how your group has tackled the issue of weeds and feral animals?
The next issue (no. 66, autumn 2016 ) of the Victorian Landcare and Catchment Management magazine will feature stories on invasive plants and animals.
The editors are interested in hearing the experiences of groups, networks and landholders working on these challenging issues. Contributions should be sent to the editor (Carrie Tiffany, viaeditorviclandcare@gmail.com) by Friday 5 February 2016.
A two-page feature in the Victorian Landcare and Catchment Management magazine is around 1,000 words, plus 3-4 high res jpgs images. A one-page story is around 500 words with 1-2 high res jpgs images. A high res jpg is an electronic image at least 15cm in size when saved at 300dpi (this makes a file size of around 1MB). All photographs must be captioned. Photographs are not credited due to lack of space. Shorter stories and notices about upcoming events are also welcome. Stories written in the active voice with quotes (e.g. from landholders) are preferred.
If you would like some help writing the story or taking the photos please do not hesitate to ask me.
UCLN AGM HELD AT KYNETON
Our AGM was held recently at Kyneton. 27 people attended for a  walk along the Kyneton River  through the Botanic Gardens to look at the great work being done by the Campaspe Land and River Management Group.
Peter McRostie from the NCCMA brought along tablets and gave instructions on how to map projects and enter data on site. We then walked on to the Piper St Food Company for lunch ,the AGM and to see a the mapping projected.
The Network has applied via the volunteers Grant for 5 tablets to share amongst the groups and to start teaching members how to map their projects and enter data.This will make end of financial year data collection a less painful process! We hope we are successful in our grant application so we can begin work on this project.
COBAW FIRES INQUIRY RESULTS.
The recent Cobaw fires affected some landowners in the North East of our Network.
For those of you interested in  the report from the Lancefield-Cobaw fire investigation and the government's response  go to – http://delwp.vic.gov.au/fire-and-emergencies/lancefield.
The issue
The Croziers Track planned burn conducted by DELWP broke containment lines on 3 October.
It was brought under control by DELWP and CFA firefighters over the next two days but again broke containment lines on 6 October.
On 8 October, Minister for Environment and Climate Change Lisa Neville requested an independent investigation into the fire; and for findings to be provided to DELWP within three to four weeks.
Investigation
The investigation was led by an external, independent expert, Murray Carter, Director of Western Australia's Office of Bushfire Risk Management, and examined all aspects of the planned burn and what happened once it began.
Profile – Murray Carter – Director Office of Bushfire Risk Management, Western Australia
Scope of investigation
The investigation investigated and provided a written report to the Secretary regarding :
the adequacy of planning and resourcing of the 'Lancefield – Cobaw Croziers Track' planned burn (the planned burn)
the appropriateness of the weather and other conditions for conduct of the planned burn on 30 September 2015
what caused the planned burn to break containment lines on 3 October 2015 and on 6 October 2015
decision making, management and control of the planned burn, including the adequacy of the patrol strategy adopted following its ignition
the adequacy of communication with the community in the lead up to the planned burn and after it broke containment lines
The investigation team extensively consulted with the community, from community meetings, one-on-one meetings, and feedback provided via email. More than 100 submissions were received from the community and stakeholders as part of the investigation.
Full terms of reference for the investigation:
Terms of Reference
[PDF File – 67.2 KB]
Terms of Reference
[MS Word Document – 17.1 KB]
Support and assistance
The Department of Environment, Land, Water and Planning will provide appropriate support to those members of the community that have suffered damage as a result of this fire.
If you require any support or assistance from the government, please contact DELWP's Community Liaison Officer on 5336 6674.
For more information about accessing the various types of assistance and support, these FAQs
[MS Word Document – 84.2 KB] may assist.
Lancefield insurance fact sheet:
Lancefield-Cobaw: Insurance information
[PDF File – 56.8 KB]
Lancefield-Cobaw: Insurance information
[MS Word Document – 9.2 KB]
– See more at: http://delwp.vic.gov.au/fire-and-emergencies/lancefield#sthash.kixh567C.dpuf
WINNERS ANNOUNCED AT FIRE AWARENESS AWARDS!
The Upper Campaspe Landcare Network was thrilled to be a partner in the Black Hill Fire Recovery team who recently were recipients of the two Fire Recovery Awards.
Macedon Ranges Shire Council, Friends of Black Hill Reserve, Loddon Prison Landmate Program, Upper Campaspe Landcare Network, CFA and Regional Arts Victoria, have won two awards for the recovery effort after the January bushfire that affected the Black Hill Reserve.
Awards won:
Winner of Recovery Award
Winner of RACV Insurance Award for Excellence
The winners of the prestigious awards were announced to an audience of more than 200 people from across the state, including community members , emergency services representatives and the Environment and Emergency Services Ministers.
Winning projects were diverse and included community resilience projects, Landcare recovery projects and education projects.
Well done to all the  people who were involved in this work.
NORTH CENTRAL CHAT
The  November & December edition of the North Central Chat is here http://www.nccma.vic.gov.au/library/scripts/objectifyMedia.aspx?file=KMSMedia/pdf/141/77.pdf&fileName=North Central Chat- November December 2015.pdf
Hot topics include
–          November 2015 Chicks in the Sticks
–          Drone footage capturing Gorse removal
–          Cool Cows Workshop
–          Engaging the next Generation of Landcarers
–          River Detectives Program 2016 registrations now open
–          Events and Grant Funding opportunities!
30TH ANNIVERSARY OF LANDCARE CELEBRATIONS NEXT YEAR.
Next year is the 30th Anniversary of Landcare in Victoria.The Macedon Ranges Shire Council and two Landcare Networks in our Region will be holding an event to celebrate this impressive milestone.
If you have any ideas for the event you can have input by accessing the online survey below.
Please see the attached online survey for the Landcare Forum ideas.
https://www.surveymonkey.com/r/Landcare2015
NORTH CENTRAL VICTORIA REGIONAL SUSTAINABLE AGRICULTURE STRATEGY NOW OUT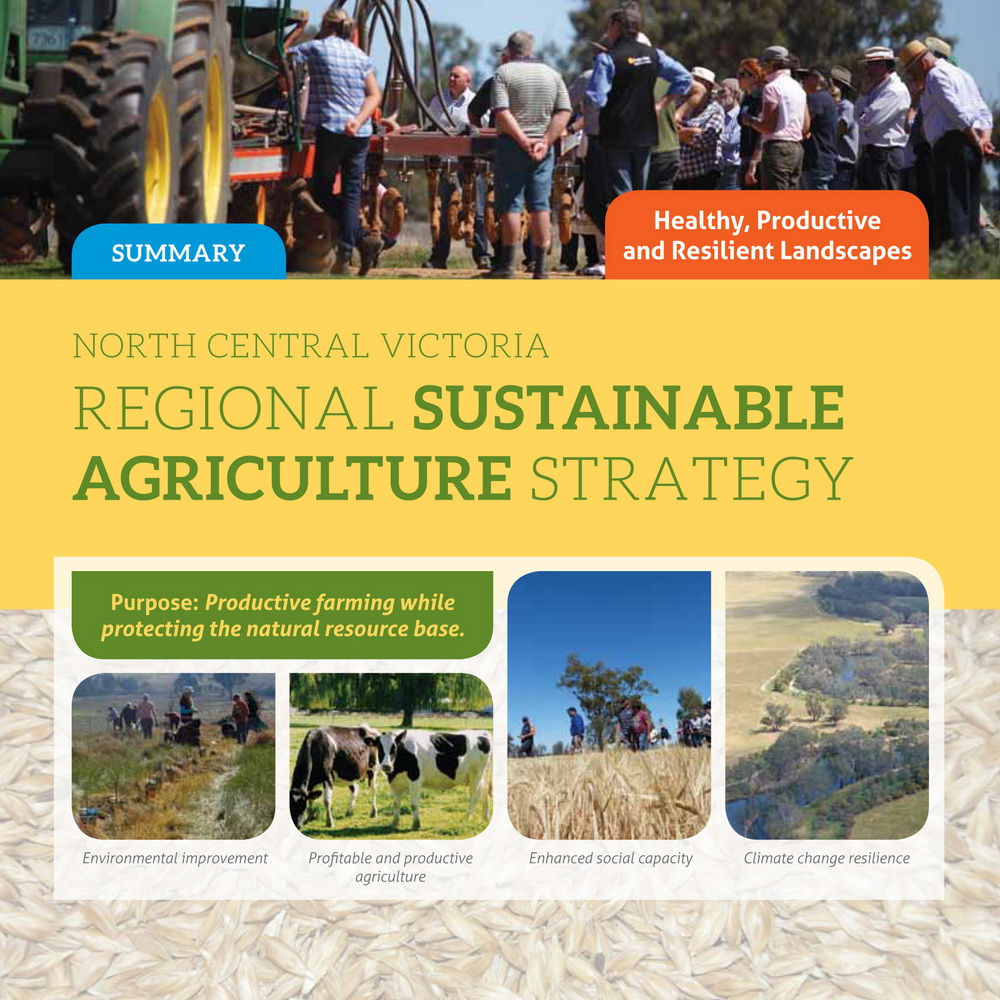 Productive farming while protecting the natural resource base
Following months of community and stakeholder engagement the regionally endorsed 2015 north central Victoria Regional Sustainable Agriculture Strategy is released. The release of the Strategy comes at a time of high commodity prices, increasing demand for product, an unprecedented level of interest in investing in Australian agriculture, and a buoyant Victorian agricultural community that is positive about its future. At the same time the Strategy recognises the dry conditions that have prevailed across the region, both through the Millennium drought and also over the past two years.
The Strategy draws on the experiences and feedback of hundreds of land managers who have participated in sustainable agriculture programs in north central Victoria over the past ten years. Experienced practitioners, both from private industry and government programs, have also contributed in providing well-rounded perspectives.
Agriculture in north central Victoria continues to undergo rapid change and to achieve greater agricultural sustainability, there will need to be the balance between achieving greater farming productivity whilst protecting the natural resource base and investing in the capacity of our agricultural community. The change drivers affecting agriculture currently include an increasing climate variability; declining soil health; water reform and irrigation modernisation; technological advances; consumer demand for quality food and organic products and high animal welfare standards and expectations.
The Strategy will:
Strengthen the improvement of sustainable agriculture in the region over the next 15 years through strategic and practical measures.
Provide a regionally coordinated approach to sustainable agriculture that enhances and builds relationships between the region's service providers, producers, manufacturers and consumers.
Function as a prospectus for attracting future investment and additional resources to achieve sustainable agriculture.
The full version of the Strategy can be found here: 2015 North Central Victoria Regional Sustainable Agriculture Strategy
COMMUNITIES FOR NATURE,WORK FOR THE DOLE  AND TYLDEN LANDCARE
Tylden Landcare has been working along the Little Coliban River under the Communities for Nature program, which aims to improve the condition of our natural landscapes.  Tylden Landcare partnered with the  Work for the Dole program.
The little Coliban River  area has a blackberry, gorse and willow problem,harbouring rabbits and foxes. Following a weed control program during 2015, a revegetation program was carried out along the Little Coliban River with Tylden Landcare and the Bendigo based work for the Dole program.
"Long term weed control can be achieved through an integrated program that includes chemical control, manual control, follow up works, planting alternative vegetation to suppress weed regrowth, and ongoing maintenance of plantings" said Brendan Smith of Tylden Landcare group. "The partnership between the landcare group, the Work for the Dole program and the community will help ensure sustainable conservation outcomes into the future".
Many of the plants were Swamp Sedges and Tussock Grasses. Shrubs and trees were also included in the revegetation program and comprised Eucalypts, Acacias, Leptospermum, Cassinnia, Lomandra and the threatened Australian Anchor Plant. All of the plants were sourced from local seed provenances as these plants are acclimatised to our local area and geology.
Tylden Landcare was successful in obtaining a grant from the Victorian government under the Communities for Nature Landcare program. This program supports community groups, schools and volunteers doing work primarily focused on the environment. This has allowed Tylden Landcare to carry out follow up woody weed control works on earlier treated and revegetated areas further along the Little Coliban.
The best long term strategy for weed suppression is to replace weeds with an alternative cover. Along the Little Coliban River this has been achieved through revegetation using indigenous grasses, shrubs and trees. As part of this program around 2800 plants were put in along the Little Coliban- that's 70 hyco trays, a pretty good effort by the works crew!
THE LATEST ISSUE OF LANDLINK IS OUT
The latest issue of Landlink has all all sorts of interesting stories in it.Go to link below for more info.
http://us1.campaign-archive1.com/?u=c874938162801405204f0d115&id=3f8a026bbd&e=c16ae42b84
If its too hot to go outside there is a fascinating story in the Age about using taxidermy decoys to catch rare native brolgas! See link below.
http://www.theage.com.au/technology/sci-tech/ecologist-inka-veltheim-uses-taxidermy-decoys-to-catch-rare-native-brolga-20151118-gl1xwk
KYNETON SHOW
A big thankyou to all those volunteers who helped out recently on the Landcare Stall at the Kyneton Show.The Network purchased indigenous trees and shrubs which were handed out to showgoers on the day,and visitors were able to gain an understanding of the work of Landcare by looking at our display and chatting to members.Leftover trees from the show were donated to Trentham Landcarers who had recently lost plantings due to a late frost.
WISHING ALL LANDCARERS A SAFE AND HAPPY FESTIVE SEASON!